Thirty one players have been shortlisted and are attending a one week camp as Guyana's Junior Lady Jags prepare for the Under-17 and Under-20 World Cup preliminary competitions.
The locally-based players were identified following training sessions by Technical Director US-based Mark Rodrigues who was on a recent visit to Guyana to assess the local players prior to the naming of a squad.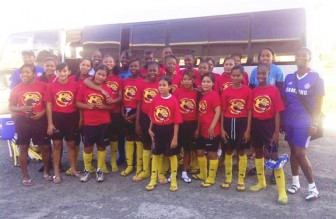 The players are being encamped at the Ocean View international Hotel on the East Coast of Demerara with training sessions taking place at University of Guyana ground twice daily from 06:00 hours-08:00 hours in the mornings and from 15:00 hours- 17:00 hours in the afternoons.
Rodrigues, accompanied by Programme Director, Colin Baker and GFF Technical Development Officer, Lyndon France, along with Guyana Football Federation administrator Lawrence Griffith visited several regions and conducted training sessions with the players.
The team also visited Georgetown, Linden, Bartica, West Demerara, Berbice and Lethem.
France is in charge of this week's camp which is a follow up to a similar camp held last week in Canada for players from USA, Canada and England who are vying for selection on the Junior Lady Jags squad for the two upcoming engagements.
The players invited to attend this week's camp are from: (Lethem) – Janet Wenceslaus, Dian Mandokin, Leoni Robinson, Prescilla Allan, Theresa McDonald, Helen Milton, Leondra Simon, Ursela Primus, Amanda Cabral.(Georgetown)Althea Holligan, Jennel Brown, Natiffa Marville, Tasnica Lovell, Keisha Gordon, Anaida Walker, Shonette Gaspher, (Linden) Kenish Wilson, (West Demerara) Keishell Moore, Jimacie Petty, Kerhanna Hunte, (Berbice) Rachael Subick, Beverly Rodrigues, Sasha Loo (Bartica)
Evern Ambrose, Kerry Thomas, Sheneze Henry, Lisa Perriera, Victoria Wong (Kamarang) Steffi Walker, Ieolinda Issacc and  Lisa Williams.
The squad will be reduced to 24 players following this week's camp.
Meanwhile, GFF officials indicated that plans are in place to have the reduced squad continue training with the current staff and should be  joined by USA's Hope Clark, Head Coach of Georgia State and University.
Clark, also a specialist goalkeeper trainer, will hold a national goalkeeper camp from the Tuesday to August 1.
Guyana will host the first round of the female U17 World Cup Qualifiers with matches scheduled for August 17, 19 and 21 at a venue still to be announced.
Around the Web