SINGAPORE, (Reuters) – Mohammed Bin Hammam's  lifetime ban from soccer is likely to transform Friday's  scheduled Asian Football Confederation (AFC) executive committee  meeting into a platform for prospective candidates to campaign  for votes to fill his presidential role.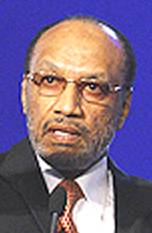 AFC president since 2002, Bin Hammam plans to appeal the  FIFA ethics committee ruling on Saturday that the 62-year-old  Qatari was guilty of trying to buy votes in his failed bid to  oust Sepp Blatter as the head of world soccer in June.
China's Zhang Jilong, an AFC vice-president but not a member  of the all-powerful FIFA executive committee, has been in  temporary charge of the regional body since Bin Hammam was  initially suspended at the end of May.
He said in a statement yesterday that the AFC must stay  united after the incident which followed a number of  match-fixing scandals across their 46 member associations.
"I, in my capacity as the acting AFC president, am aware of  the urgent need to provide a strong leadership that will work  closely with the member associations towards creating a climate  of trust and confidence.
"During my provisional president, I promise that AFC will  govern the continent's football affairs in complete  transparency, fairness and harmony," Zhang said, using words  very similar to those employed by Bin Hammam when he outlined  his FIFA presidency manifesto in March.
Zhang's comments of providing support to the likes of South  Korea, engulfed in a match-fixing scandal that has led to the  arrest of a number of players in the top-flight K-League, are  far different from the reserved stance he took when discussing  the topic with Reuters last month.
His thoughts then were to leave the likes of South Korea,  China and Malaysia to eradicate the problems by themselves but  after Bin Hammam was banned by FIFA, Zhang's pledge could be  seen as a presidential manifesto of his own.
Bin Hammam allies   
The problem for Zhang, if he does choose to run, is that he  may not hold enough popularity among Asia's member associations.
While he assumed the role as temporary head via his position  as the most senior member of the AFC, he failed to win a seat on  the FIFA executive committee in January after losing out in a  race for two positions.
The two men that beat Zhang at the AFC elections in Qatar  earlier this year were Thailand's Worawi Makudi and Sri Lanka's  Manilal Fernando, who both accompanied Bin Hammam on the  ill-fated trip to Trinidad, where he was found guilty of bribing  officials.
Around the Web