Second vice-president of the Guyana Football Federation (GFF) Franklin Wilson was yesterday appointed as acting head of the institution two days after long-standing president Colin Klass was provisionally suspended by the world governing body (FIFA) from all football-related activities.
Wilson's appointment was with immediate effect in accordance with the provisions of Article 37.5 of the GFF Constitution, which states that "if the president is permanently or temporarily prevented from performing his official function, the longest serving vice-president shall represent him until the next Congress.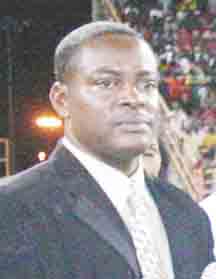 Klass has been provisionally suspended from taking part in any football-related activity, administratively, sports or any other form, by Switzerland's Claudio Sulser, chairman of the Ethics Committee of FIFA, after the committee had received specific information that seemed to suggest that he was involved in the cash-for-votes scandal masterminded by former FIFA vice presidents Mohammed Bin Hammam and Jack Warner.
FIFA's Ethics Committee on Thursday opened ethics proceedings against 16 CFU officials regarding apparent violations of the Code of Ethics connected to the investigation that stemmed from a special meeting of the CFU held in Trinidad & Tobago on May 10 and 11. At that meeting it was alleged that former presidential candidate and banned FIFA executive Qatari Bin Hammam offered delegates of the 25 CFU states US $40,000 for their votes at FIFA elections last June.
Judge Robert T. Torres, a member of the Ethics Committee, will be supervising and directing the investigation. Torres, with the approval of the committee, has engaged Freeh Group International Europe (FGI Europe) and the secretariat of the Ethics Committee to assist the committee with this task.
The 16 officials will be contacted by the Ethics Committee to arrange further interviews in connection with these proceedings. Noel Adonis, General Secretary of the GFF, was named to meet with investigators at a later date but was not banned.
Yesterday, Wilson said that Adonis will continue to perform his duties as General Secretary. Speaking of his elevation, Wilson said that now is the time to consolidate and let the FIFA investigation take its course.
He said the first order of business will be to continue planning for the Under-17 World Cup qualifiers that will be held in Guyana and preparation will also start for the senior team.
According to Wilson, the absence of Klass will "not affect the continuity of football development in Guyana."
Wilson, who is also a Kaieteur News Sports Journalist, said that everybody was still functioning as normal and under his stewardship he will be looking to include all in the process. He outlined that every executive will be pulling his/her own weight since he wants "administration to be as tight as possible."
When asked whether he thinks money was offered or received by Guyana he said that he was not getting into that. He said that Klass has stated that no money was offered or received. He also said that he will not comment on whether the GFF executive was supporting Klass, reiterating that the FIFA investigations should take its course.
Around the Web