Guyana clinched Group C with an impressive 2-0 victory over Anguilla in the final match of the first round of the CONCACAF Under-17 World Cup Qualifiers at the Uitvlugt Community Centre ground, yesterday.
The home side went into yesterday's encounter in a must-win situation, knowing that nothing other than a victory over their Leeward Islands opponents would enable them to qualify from the group, while Anguilla simply needed to avoid defeat to win the group.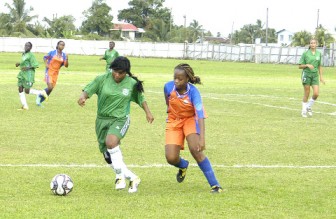 However, in front a vocal group, which had members of the senior Guyana men's "Golden Jaguars" side, Kashif and Shangai executive Aubrey Major and recently appointed Guyana Football Federation (GFF) president Franklin Wilson in the audience, the under-17 girls quickly dominated proceedings.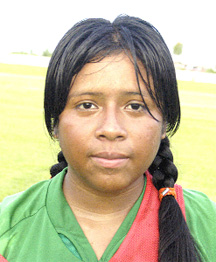 Playing with a 4-5-1 formation compared to Anguilla's 4-4-2 set-up, by the simple virtue of having more bodies in mid-field, Guyana was able to control the pace of the game with lone striker Ursuline Primus and Sara Vaughan playing in the "hole" behind especially showing great understanding as an attacking pair for the Guyanese.
But, the first goal after numerous close efforts on the opposition net came until the 36th minute when a poor clearance by Anguilla goalkeeper Shaniqua Hodge fell straight into the path of Primus, who accelerated past two defenders to score.
Guyana went into the half-time interval 1-0 ahead, but  they could have certainly had more as Vaughan hit the post in the 40th minute with a free-kick just outside the 30-yard box, while Primus had missed a early chance in the 28th minute.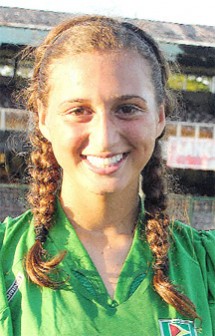 The second half continued with the locals pressing home the initiative with the Primus/Vaughan duo further mesmerizing the Anguillan defense.
In many instances, the delightful skill of Primus brought applause from the crowd, while Vaughan proved the perfect link between mid-field and attack, with her vision that enabled her to make a sequence of clever passes to her teammates.
Vaughan moved from distributor to scorer in the 60th minute when she ran down the left-flank and fired a powerful shot into the net, the game was good as done. In the final 30 minutes, understandably Guyana became more defensive with Primus being substituted.
Guyana captain Dian Mondokin in central defense, played a key role in marshalling her troops as they snuffed out all of the Anguilla late attempts to score in the latter stages of the game.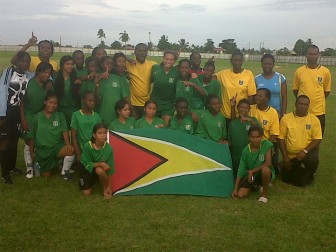 This victory means Guyana move on the second group stage of qualifiers schedule to take place on September 20-29th. In this stage three  teams will qualify for the eight-team CONCACAF finals next year. Those finals will include North American sides United States, Canada, Mexico as well as two teams from Central America.
CONCACAF will send three teams to the Under-17 Women's World cup in Azerbaijan set for September 12 – October 13th, 2012.
Around the Web