Guyana Defence Force (GDF) recovered from their 1- 0 defeat on the opening night to score  a 2-1 win over Sunburst Camptown in the Fruta Conquerors-organised Milo Under-23 football competition, Sunday night, at the Tucville Playfield.
Paul Bobb was the star performerfor GDF scoring both  goals.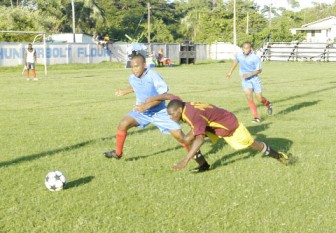 The GDF/Camptown match saw the eventual victors dominating in the mid-field and in defence while Camptown's strikers were superior but not supported by the defence and mid-fielders.
Camptown went ahead as early as the 13th minute when Jahall Greaves finished with a terrific header following a succession of attacks from the Camptown forwards.
The substitution of Jason Lewis in the second half saw the GDF looking a stronger as the game progressed.
Lewis, along with seasoned mid-fielder Bobb, pressed through the defence and gave the GDF its first goal in the 60th minute.
As the match progressed GDF gained a penalty which was successfully converted by Bobb, the goal proving to be the winning goal.
In other results, the Guyana Police Force Police defeated Charlestown United 2 – 0 with Derron Bentick scoring in the 60th and 65th minutes.
The other showdown of the day saw Northern Rangers and Riddim Squad playing to a 1 – 1 draw.
Dorville Stuart scored for Riddim Squad  in the 11th minute while Tevin Foster scored for Northern Rangers  in the 50th minute.
Action continues today at the Tucville Playfield from 5pm with GFC taking on Riddim Squad while Camptown will meet Northern Rangers and Santos takes on Beacon at 7pm and 9pm, respectively.
Around the Web