Santos Football Club looked unstoppable as they romped their way to a 5-0 win over Beacons Football Club last Wednesday in the 2011 under-23 Milo Football Tournament.
The one-sided affair showed why the victors associated the name of their club  with the former club of the legendary  King Pele when  William Europe shot the first goal in the eighth minute.  Beacons then tightened on their defence as the first half concluded with Europe's goal being the only difference between the two teams.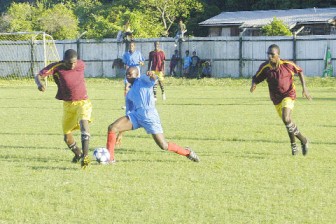 The second half saw Santos coming out with a more aggressive attitude as they scored five minutes into the second half as Lerone Charles made it 2-0 in the 50th minute.
Play was steady between the two teams before Santos netted three goals in the space of four minutes to seal the victory. Europe added another to his tally in the 67th minute while Charles followed suit in the 68th minute before Edward Austin finished off with his only goal in the 70th minute.
Sunburst Camptown also had a good outing when they managed to overhaul  Northern Rangers 3 goals to one.
With the two teams searching for their first goal, Camptown managed to find the back of the net in the 20th minute as Adrian Adonis scored a neat goal.
Leroy Griffith then put Camptown up 2-0 in the 30th minute to see Camptown end on a high note going into the half-time break. Camptown then solidified their position and the eventual win as Darrel Fraser scored in the 55th minute before the Northern Rangers scored a consolation goal in the 65th minute off the boot of Gavin Bobb.
Riddim squad also picked up a win last Wednesday when they downed the Georgetown Football Club (GFC) 3-1 at the end of regulation time.
Teon Jones started Riddim squad on the right foot when he managed to net a goal in the 25th minute to put his team up by one.  Cardel Tudor then equalized ten minutes later for GFC in the 35th minute to end the half one all.
However, Riddim Squad proved too difficult for GFC to contain as they blasted two goals in the 60th and 78th minute from Amos Ramsay and Jones respectively to seal the win.
Around the Web