The Pepsi Hornets Rugby Club ran through the Guyana Defence Force (GDF) rugby team to win the Guyana Rugby Football Union (GRFU) season opener 27-0 when the two teams bumped heads yesterday at the National Park.
The 15-a-side clash between the two clubs kick started the GRFU's 2011 season as part of a Men's 15's tournament organised by the rugby union in preparation for this year's North America and Caribbean Rugby Association (NACRA) 15's Champion-ship.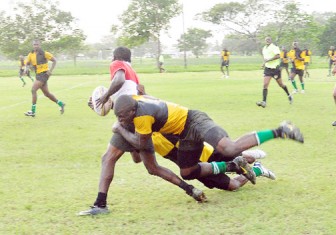 Yesterday's opening game of the tournament brought together old foes, who have not met on the rugby pitch since the first half of last year.
As in previous games, the Hornets were on the winning end against GDF and with a wealth of experience on their side along with some young legs; Hornets overcame their opponents without conceding a try.
Hornets' Ryan Gonsalves put his team three points ahead of GDF 11 minutes after kick off when he converted a penalty from close range, a few metres out in line with the uprights. This was followed by a try from Rondel 'Bull' Mc Arthur, who bullied his way past the GDF try-line 10 minutes afterwards.
Gonsalves, however, was not able to convert on Mc Arthur's try from a fairly difficult position on the wing and the Hornets closed out the first half of the game 8-0 ahead.
From the beginning of the second half GDF found it difficult to contain the swift Hornets forwards, who were spreading the ball from wing to wing.
The Hornets continued to attack the tiring and at times frustrated GDF side and breached the GDF defence for three tries in quick succession leading up to the end of the game.
Hornets' first try in the second half came through Basil Bailey. Bailey's try was not converted but was followed by a try from Jason Tyrell from a position just outside GDF's try-line. Tyrell's try was converted by Leon Greaves.
Lancelot Brown scored Hornets' final try of the game on the far side of the wing while Gonsalves made the challenging conversion look fairly easy to put the finishing touches on the game a few minutes before the final whistle.
Around the Web