Pepsi Hornet's pulled off a comfortable victory against Yamaha Caribs in the tournament decider of the William Blackman 15-a-side Rugby League to take the coveted crown on Saturday at the National Park Rugby Playfield.
Hornets won 38 – 22 with national player Kevin `Buck' Mc Kenzie proving to be the star of the proceedings in the lone match of the day.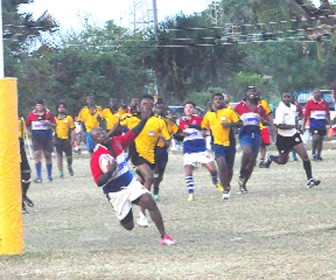 Hornets ended the tournament unbeaten winning all four of their matches while Caribs lost both matches to Hornets but defeated the Guyana Defence Force in both their encounters.
On Saturday, Hornets entered the game as the favourites against the youthful Yamaha Caribs side  which included national coach Theodore Henry and national captain Claudius Butts.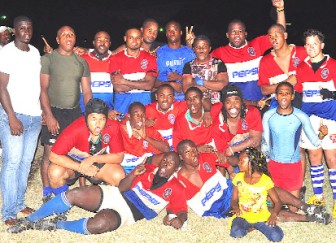 Hornets though showed in no uncertain terms that they were the superior side stinging the Yamaha Caribs team with regular tries and conversions which proved very frustrating for the Caribs side.
Mc Kenzie led the way with three tries while Christopher Singh, Troy Bascomb and Elwin Chase supported with a try each while Ryan George made four conversions.
For Yamaha Caribs, Butts scored two tries and Henry and Walter George one each while Henry scored the lone conversion.
Comments

The Hornets players used their skill and experience and held their nerve to come from behind and sting a game UG outfit, 34-28 to lift the GRFU 10s league trophy yesterday at the National Park.

Despite the recent inclement weather, the spirit of the national rugby squad is far from dampened as the ruggers continue to prepare assiduously for the NACRA senior men's 15s Caribbean championships home game against Barbados on May 18.

By Emmerson Campbell The Guyana government will be giving financial support to the tune of US$10,000 towards the participation of the national men's rugby team at the Pan American championships in Guadalajara, Mexico and the NACRA championships in Barbados.
MONINO, Russia, (Reuters) – Russia believe they can  win their opening match on their rugby World Cup debut with  coach Nikolai Nerush saying their inclusion is a big boost for a  set-up which receives "peanuts".

The annual Banks DIH Sevens Rugby competition which was scheduled for yesterday in the National Park was postponed due to the heavy rainfall.