Test rugby giants Bermuda ended their championship drought when they rallied to an 11- 0 victory against Guyana in the final of the 2011 NACRA Rugby 15s championship at the Guyana National Stadium, Providence last night.
A pleased Bermuda coach Lawrence Bird said this victory meant a lot for them since they have not been able to win a title in over 10 years. Bird said he thought both teams displayed tremendous defence which was why it end as a low scoring match.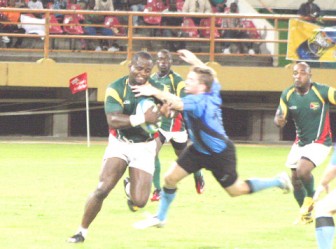 Speaking on how the game went, Bird stated: "The first half went exactly how we wanted it to go except for the last 15 minutes, then Guyana began to really step it up in their forwards but we began to creep into their style of play. In the second half Guyana really stepped it up and played very hard."
However, the coach went on to say what made him frustrated was the many loose balls they had which he didn't expect to go unpunished because they wasted a lot of energy with the fumbles and had to make up for that defensively.
It was Bermuda who controlled first half with them going ahead with a try scored by Thomas Greenslide but it was not converted. They were then awarded two penalties which were successfully scored to put the home side down by 11 points 20 minutes into the battle.
Bermuda, the physically larger side used that advantage to the fullest while Guyana, the more agile side found themselves on the back foot being often trapped when they attempted to create a few spaces.
In the second half Guyana was the victim of some very bad calls by referee George Nicholson that got even worse as the regulation time whistle approached. It was much of a see-saw battle for the entire second half as neither team could get past the try line or score a penalty.
Comments

The Hornets players used their skill and experience and held their nerve to come from behind and sting a game UG outfit, 34-28 to lift the GRFU 10s league trophy yesterday at the National Park.

Despite the recent inclement weather, the spirit of the national rugby squad is far from dampened as the ruggers continue to prepare assiduously for the NACRA senior men's 15s Caribbean championships home game against Barbados on May 18.

By Emmerson Campbell The Guyana government will be giving financial support to the tune of US$10,000 towards the participation of the national men's rugby team at the Pan American championships in Guadalajara, Mexico and the NACRA championships in Barbados.
MONINO, Russia, (Reuters) – Russia believe they can  win their opening match on their rugby World Cup debut with  coach Nikolai Nerush saying their inclusion is a big boost for a  set-up which receives "peanuts".

The annual Banks DIH Sevens Rugby competition which was scheduled for yesterday in the National Park was postponed due to the heavy rainfall.