The Guyana Rugby Football Union (GRFU) will complete a successful School's Rugby Summer Camp today with a sight-seeing tour around Main Street, Georgetown.
The camp which started last Monday was open to primary and secondary school students. It was held at the National Park rugby field and managed by national coach Theodore Henry and coaches Troy Yhip and Sasola Gray.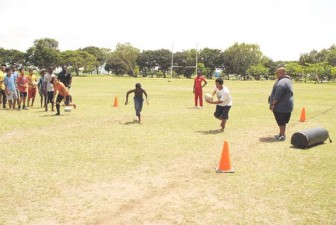 According to Yhip, the programme had a fairly good turnout of about 20 children including eight girls the first day, after which only about six students attended. The students were taught some of the fundamental aspects of the game included rugby drills though the programme aimed to teach the children to have fun while playing.
"Well basically it's about fun…we just wanted to give them a physically active programme for them to engage in as well as a skill they can learn instead of them being home with nothing do. We saw a vast improvement of skill over the two week period so I must that it was a success and the kids that are heading into the school programmes will have an unfair advantage over the other that did not turn out," Henry told Stabroek Sport in an interview. Regarding plans for the participants at the close of the camp Henry said they hope to expand it a bit more next year by including an educational aspect.
In addition, Yhip extended gratitude to the sponsors for their contributions. They are AINLIM, Farfan and Mendes, Mings Products and Services, Coal Pot, Yhip's Bakery, John Lewis Styles and the Beacon Foundation.
Comments

The Hornets players used their skill and experience and held their nerve to come from behind and sting a game UG outfit, 34-28 to lift the GRFU 10s league trophy yesterday at the National Park.

Despite the recent inclement weather, the spirit of the national rugby squad is far from dampened as the ruggers continue to prepare assiduously for the NACRA senior men's 15s Caribbean championships home game against Barbados on May 18.

By Emmerson Campbell The Guyana government will be giving financial support to the tune of US$10,000 towards the participation of the national men's rugby team at the Pan American championships in Guadalajara, Mexico and the NACRA championships in Barbados.
MONINO, Russia, (Reuters) – Russia believe they can  win their opening match on their rugby World Cup debut with  coach Nikolai Nerush saying their inclusion is a big boost for a  set-up which receives "peanuts".

The annual Banks DIH Sevens Rugby competition which was scheduled for yesterday in the National Park was postponed due to the heavy rainfall.