Former president of the Athletics Association of Guyana (AAG), Martin Stephenson, who died on January 20 at the St. Joseph's Mercy Hospital, is scheduled to be laid to rest tomorrow morning.
Stephenson's funeral is set for the St Andrews Kirk Church, Brickdam, beginning from 10:30am, according to secretary of the Athletics Association of Guyana (AAG) Claude Blackmore.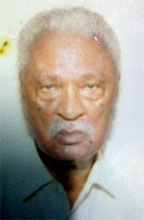 Meanwhile, President of the AAG Colin Boyce says that the fraternity is truly saddened over Stephenson's death.
"I wish to convey my great shock at the passing of Martin Stephenson. He was the father of track and field in Guyana. He produced a number of really good athletes," said Boyce.
"He will surely be missed. I wish, on behalf of myself and the association to extend condolences to his family and all of his children."
Boyce said that himself and several members of the association are expected to attend the funeral.
Stephenson, a former president of the association during the early 1980s and late 1990s, when the Association was then called the Amateur Athletics Association of Guyana (AAAG) is credited with the success of several of Guyana's athletes.
Around the Web