By Treiston Joseph
When Dick Traum was only 24 he was crushed between two cars at a gas station. His right leg later had to be amputated.
Traum was later to receive recognition by becoming the first amputee to run a marathon (New York 1976).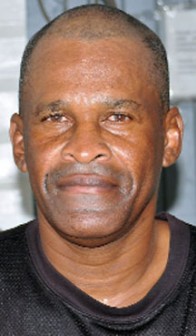 Later he formed the Achilles track Club in New York, a club that helps athletes with all kinds of disabilities compete and finish races.
Now national awardee, Walter Rodney awardee and President of the Able/Disable Athletic Club, William `The Conqueror' France will seek to become the oldest amputee to walk in a marathon
France will attempt that feat in London on April 17 and hopes to succeed Traum as the oldest amputee walker to ever complete the distance.
France, 54, told Stabroek Sport yesterday that while he will most likely succeed Traum (who was 52 at the time he became the eldest amputee to walk in a marathon) his dream could be short lived if he doesn't receive the necessary funding to attend the marathon.
According to France he will not be travelling alone but will be accompanied by his wheel chaired compatriots, Audrey Bowling and fellow amputee, Andrea Richardson who both will take part in the London event.
"We don't get paid for these marathons but the fares come up to $2500US and so far we are short $900US.
"So far we have received some sponsorship from a London Association and some other organizations.
"We were suppose to leave last Monday but because of the financial constraints we couldn't, so we are hoping that other sponsors come on board so we could leave by April 13th the latest," France added.
The veteran campaigner of 17 years, who has competed in 29 marathons to date, stated: "I've been training hard for this walk, walking 13 miles every other day from Mocha to town and back, it's not a race I'm just looking to create history for my country.
"I have been given a time of 6:45 minutes to complete the marathon by the Achilles Track Club of which I'm apart of. They are a club that deals strictly with people who have disabilities and my compatriots are going to support me even though both are faster than I am," he said.
According to France, he was the first Guyanese Sportsman to feature in the Jet Magazine on the 21st of April, 1999.
France, who feels this could well be his last marathon, said he would like to thank the following sponsors for their support  for over the years and to date:-
Prime Minister, Samuel Hinds, Director of Sports, Neil Kumar, Banks DIH, Demerara Distillers Limited (DDL), Courtney Benn, Stanley Ming, Nigel's Supermarket, Keith Bazillio, Humphrey Bakery, Ramchand Auto Sales, Dr. Bheri Ramsarran, Peaches Taxi Service, Minister of Public Service, Dr. Jennifer Westford and Bagah Health Movements.
France also expressed the need for more sponsorship and said he could be contacted on 680-3892.
Meanwhile France expressed sincere thanks to the government for approving the disability bill and said his main aim is o create history for his country.
Around the Web