RALEIGH, North Carolina, (Reuters) – Three times  world 200 metres champion Allyson Felix could run in as many as  four events at August's world championships, according to the  relay pools released by USA Track & Field (USATF) yesterday.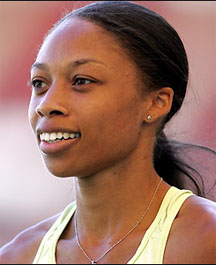 The California sprinter, already thinking about a rare 200  metres/400 metres individual double, was named to initial U.S.  women's world championship pools for both the 4×100 and 4×400  metres relays.
If selected for both relays, Felix would have a chance to  duplicate her 2007 world championship success when she won  golds in both relays and the 200 metres.
She indicated recently she would like to try both relays  along with one or two individual events at the Aug. 27-Sept. 4  world championships in Daegu, South Korea.
Initial pools for the men's 4×100 metres relay and the  men's and women's 4×400 also were announced by USATF.
Absent are former world double sprint champion Tyson Gay  from the men's 4×100 pool and reigning Olympic and world  champion LaShawn Merritt from the 4×400.
Gay pulled out of the June 24 U.S. championships men's 100  semi-finals with a hip injury and the relay was his final  chance to compete in this year's worlds.
Merritt, who completes a 21-month doping suspension on July  27, could be added later, a USATF spokeswoman said.
Although he did not run in the U.S. world trials last  month, Merritt was given a spot on the U.S. team roster last  week as the reigning world 400 metres champion. All roster  members are eligible for relay spots.
Merritt's selection likely will depend on his fitness after  he becomes eligible. He has run on the last three U.S. 4×400  relay teams to win gold medals at global competitions.
The United States has until Aug. 8 to finalize its  championship roster, including naming six athletes to each  relay pool.
The U.S. relay pools:
Women's 4×100 – Miki Barber, Allyson Felix, Marshevet  Myers, Carmelita Jeter, La Shauntea Moore, Alexandria Anderson,  Jeneba Tarmoh, Shalonda Solomon, Bianca Knight, Jessica Young
Women's 4×400 – Lashinda Demus, Francena McCory, Debbie  Dunn, Allyson Felix, Sanya Richards-Ross, Jessica Beard, Dee  Dee Trotter, Natasha Hastings
Men's 4×100 – Trell Kimmons, Mike Rodgers, Justin Gatlin,  Walter Dix, Darvis Patton, Ivory Williams, Travis Padgett,  Jeffrey Demps, Maurice Mitchell, Jeremy Dodson
Men's 4×400 – Tony McQuay, Jeremy Wariner, Angelo Taylor,  Bershawn Jackson, Greg Nixon, Jamaal Torrance, Michael Berry,  Kerron Clement, Jeshua Anderson
Around the Web