RALEIGH, North Carolina,  (Reuters) – U.S. world 100  metres silver medallist Tyson Gay had an arthroscopic procedure  on his injured right hip and will not run again this year, his  manager said yesterday.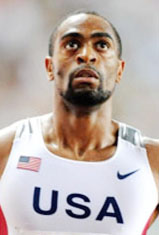 Gay, the world's second fastest man behind Usain Bolt, had  the surgery Tuesday in Vail, Colorado, Mark Wetmore said in a  statement.
"The doctor was pleased with the outcome and believes Tyson  will resume his normal base training in the fall as he prepares  for 2012," said Wetmore.
The frequently-injured Gay had hoped to race Jamaica's Bolt  in the headline event of August's world championships but was  forced to withdraw from the U.S. world trials 100 metres  semi-finals last month because of the hip injury.
He will now focus on recovering and preparing for the 2012  London Olympics and an anticipated showdown with Bolt.
Although one of the top sprinters of all-time and the  American 100 metres record holder at 9.69 seconds, he has never  won an Olympic medal.
The surgery should give him another chance. "The procedure, which addressed an impingement in his hip,  went just as expected – with no surprises or complications,"  Dr. Marc Philippon said in a statement. "Tyson is already doing  range-of-motion, active rehabilitation and I expect him to  resume normal training after six-to-nine weeks."
Gay, who turns 29 on Aug. 9, was not available for comment.  Following his withdrawal from the U.S. trials, Gay had said on  his Facebook page that his only focus was on getting healthy."
While Wetmore said the hip had been bothering Gay for some  time, he still ran what was then the year's fastest 100 metres  in early June when he clocked 9.79 seconds at a small meeting  in Florida.
He bypassed the 200 metres at the U.S. world trials because  of hip problems and saw his last chance to compete in this  year's world championships in Daegu, South Korea end this week  when he was not named to the U.S. relay pool.
EARLY COMEBACK
Gay won both the 100 and 200 metres titles at the 2007  world championships, but the next year Bolt emerged as the  dominant sprinter, smashing both sprint world record holders at  the Beijing Games.
Gay did not make that 100 metres final, going out in the  semi-finals as he attempted to comeback early from a 200 metres  injury at the U.S. Olympic trials.
Bolt also dominated the 2009 world championships, setting  world records in both the 100 and 200. Gay competed only in the  100, taking silver behind Bolt's record of 9.58 seconds.
Revenge finally came in the 2010 Stockholm Diamond League  meeting where the American shocked a not-completely healthy  Bolt.
"It was crazy. It was like I didn't even exist until I beat  the world record holder" Gay said at the time of the public  reaction to the victory.
Around the Web