MAYAGUEZ, Puerto Rico, CMC – A final day that featured victories for sprint hurdlers Vonette Dixon and Eric Keddo, as well as distance runner Korene Hinds, and the women's mile relay squad propelled Jamaica to the top of the medal standings at the end of the Central American & Caribbean Senior Championships on Sunday.
The Jamaicans topped the medal count with 10 gold, six silver and 10 bronze for 26 medals in all, enough to lead Mexico (7-6-7), Trinidad & Tobago (6-3-5), The Bahamas (5-2-3), and Cuba (5-2-0).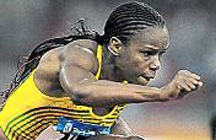 The 35-year-old Dixon impressed with a season best time of 12.77 seconds in the women's 100 metres hurdles.
Dixon, a three-time medallist at the World Championships, finished tied 11th on the 2011 World list, and brought the CAC title back to Kingston for the first time in eight years.
Keddo was second in the men's 110 hurdles at the 2011 CAC Games on the same track, but moved one place up with a personal best time of 13.49.
Hinds used her vast experience to grab the 3000 steeplechase gold with a time of nine minutes, 54.67 seconds – just 0.66 outside of the meet record held by compatriot Mardrea Hyman six years ago in Nassau, where she was second.
She prevailed over local favourite and CAC Games champion Beverly Ramos (9 mins, 58.11 secs) to collect her second medal of the Championships, following her second place finish in the 1500 on Friday.
The mile relay team comprising 400 hurdles winner Andrea Sutherland, 400 champion Shereefa Lloyd, 800 bronze medallist Natoya Goule, and Patricia Hall, who also anchored the sprint relay team to a silver on Saturday, got the gold with a time of 3:29.86.
They finished well ahead of the Dominican Republic (3:34.73) and Trinidad & Tobago (3:34.84).
The Bahamas gave further proof of their emerging strength, with a five-star performance on the final day.
Bianca Stuart led off with victory in the women's long jump, clearing 6.38 metres.
Trevor Barry followed up with a clearance of 2.28 in the high jump to lead an English-speaking Caribbean sweep of the podium that included defending champion James Grayman of Antigua & Barbuda and St. Lucia's Darwin Edwards, both with 2.25.
Nivea Smith clocked 22.80, and Michael Mathieu ran 20.60 to complete a Bahamian sweep of the 200s, the latter beating defending champion Rondell Sorillo of T&T by just four hundredths of a second.
In the final race of the Championships, The Bahamas, including 2001 World 400 champion Avard Moncur, finished in 3:01.33 to again narrowly beat T&T (3:01.75) for the men's mile relay gold, with Jamaica holding on for third in 3:02.00.
Trinidad and Tobago's Cleopatra Borel-Brown also claimed a gold medal with a distance 19m flat in the women's shot putt.
Around the Web