Guyana's 400 metres junior champion, Stephan James will depart today for Miami, Fl;orida, United States of America, to participate in the Pan American Junior Championships from July 22-24.
James, who will feature in the 200 and 400 metres, will be a part of a five-man contingent, consisting of three US-based athletes –  Kadecia Baird, Iana Amsterdam and Rolyce Boston – along with Manager/Chaperone, Faye Naughton attending the championships.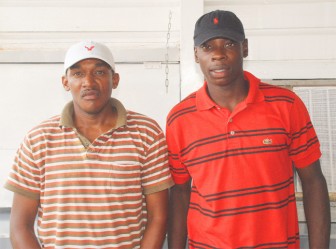 Baird is expected to contest the female 100 and 200 metres, Boston will feature in the male long jump while Amsterdam will make a showing in the females 100 metres and 100 metres hurdles.
James, who runs for the Running Brave Athletic Club (RBA), will be the only Guyana-based athlete to attend the meet and said he was looking to making  his presence felt at the prestigious event by running fast times.
"Well my preparations have been good and I know to myself that I could go out there and run early 47s or late 46s because I am fit and I'm naturally feeling it," James told Stabroek Sport in an interview.
Speaking with his coach Sham Johnny told Stabroek Sport, "So far his preparations have been really hectic, we wanted to do more work but ran out of time, physically and mentally he is prepared and I know he is going to run around 46s or 47s.
"He is young and we have high expectations for him not just at Pan Am but as far as the Olympics next year. He is a dedicated and disciplined athlete and I know he will do Guyana proud."
James's 48.4s 400 metres run which got him fourth in the final at this year's Carifta Games is a testament of his talent at the age of 18.
Meanwhile, Johnny also referred to what he described as the lack of professionalism by the Athletics Association of Guyana.
"Since his selection there has been no real meeting informing us about the games or anything of the sort, we just got calls here and there from Naughton who is the manger of the team, there was no particular communication and more needs to be done by the AAG, up to now we do not know the time of departure for him.
"I also applied for accreditation for me to go with him as a coach, we as a club were volunteering to pay for all my expenses and nothing was done about it by the AAG.  Faye has no experience as a coach and nothing from what I know was done for me to go with him," Johnny concluded.
However, it was confirmed by Stabroek Sport that James along with Naughton will depart this morning for the games.
Around the Web