Guyana's World Junior Championship representative Kadecia Baird will not be participating at the Pan American Junior Championships in Miami, Florida which started yesterday.
Baird who trains for and attends Medgar Evers College Preparatory School in New York represented Guyana for the first time at age 16 at the World Youth Championships in Lille, France. While she clocked her season's best time of 24.53s in the 200 metres semi-final, she did not make the finals as she placed fifth in her semi-final heat.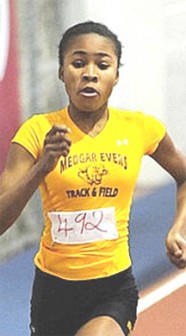 As one of Guyana's most talented female athletes, the Athletic Association of Guyana (AAG) selected Baird for the Pan American Junior Championships. She was to be one of a six-member contingent that includes 100 metres hurdler Iana Amsterdam; long jumper, Rolyce Boston; 200 and 400 metres sprinter, Stephan James; manager/ chaperone, Faye Naughton and Coach Lee Powell.
However, in a telephone interview yesterday, Baird told Stabroek Sport that she would not be participating at the Pan Am games because she was not prepared for the event. She also declined to give any further details about her decision not to participate at the prestigious meet.
Meanwhile, regarding Baird's absence at the championships, AAG president Colin Boyce said he knew that there had been some financial constraints since they were paying their own airfares but he was not aware that she was not participating. "Well we sent off an e-mail to confirm her status but up to now we have gotten no reply, I knew that they wanted her coach Shaun Dietz to travel down with her but we would not have been able to provide for that especially since we already satisfied our amount of four athletes a coach, Lee Powell and a manager but I will have to wait on a reply from her before I can fully say why she is not participating," he said.
The championships will close on Sunday.
Around the Web