DAEGU, South Korea, (Reuters) – Usain Bolt brought  world-class pizzazz to the athletics world championships yesterday where one Olympic champion ducked out without  completing even a single pole vault and another was in tears  after false starting in her 400 metres heat.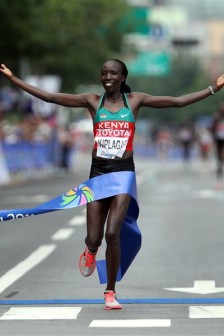 Bolt, the world's fastest man, left the rapidly emptying  stadium all smiles after posturing his way through a simple 100  metres heat. His grin was matched by the joyful Kenyans who  swept all six medals on offer on day one.
Britain's Christine Ohuruogu was left sobbing on a stairway  in Daegu's cavernous arena as rivals tried to console her after  she was disqualified.
"I false started, people false start all the time. I wasted  all that hard work. I am broken, you can all see I am broken,"  the 400 metres Olympic champion told reporters. "I have nothing  else to say, I false started…I worked really hard."
World and Olympic champion pole vaulter Steve Hooker was  equally disappointed. Having declared himself fit but  undercooked after injuries had delayed his start to the season,  Hooker failed three attempts to clear 5.50 metres.
"I had no confidence in what I was doing out there. It's  tough to try and get a good jump when you feel that way," the  Australian told reporters. "No excuse for what happened today, I  would expect more of myself."
While confidence was in short supply in some quarters,  ebullient Jamaican Bolt exuded it as he gestured to the crowd,  fashioning his hair with his hands and using his fingers as  pretend guns to fire at television cameras.
He was never tested in his heat, easing up after 60 metres  yet still finishing the fastest qualifier in 10.10 seconds, 0.02  ahead of young compatriot Yohan Blake.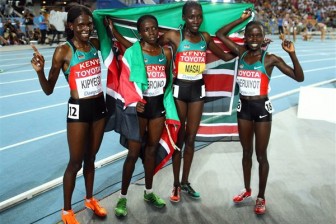 "I feel great. My goal is to go out there and execute, I  came out and I did what I wanted to. I got my great start and  I'm happy with that.
"My focus is to go out there and win and show the world I am  still the best…nobody has beaten me all season and nobody has  broken my world record."
SKINNED KNEE
Allyson Felix kicked off her campaign for 200m and 400m  double gold in the heats of the 400 metres, and looked  comfortable.
"It felt controlled. I just wanted to establish 150 and go  from there," the American said.
"It was a little quicker than I would have hoped for but I  was trying to make it as easy as possible. I feel good and am  excited to finally get started."
Policewoman Edna Kiplagat was left with a skinned knee but  the broadest of smiles when she survived a late fall to lead a  Kenyan sweep in the women's marathon.
Daegu's spectacular stadium set against a backdrop of  mist-covered mountains came to life as heats kicked off the 13th  championships, but it was on the streets of the South Korean  city that the first gold was won.
Kiplagat, with her long, languid style, broke clear of  compatriots Priscah Jeptoo and Sharon Cherop over the last two  kilometres of the race to win her first world title in two hours  28 minutes 43 seconds.
"This is my first championship… I did not have any special  strategy," the 31-year-old grinned. "I fell down at the…  refreshment station – my team mate Cherop hit my leg by  accident. I was afraid I had hurt myself but I am okay."
Yesterday's only other medals event also resulted in a Kenyan  clean sweep when Vivian Cheruiyot won gold in the women's 10,000  metres ahead of Sally Kipyego and Linet Masai.
Another Kenyan, Priscah Cherono, finished fourth, making it  the first 1-2-3-4 sweep in a women's 10,000 metres at the world  championships.
Around the Web