DAEGU, South Korea, (Reuters) – World record holder  David Rudisha won gold in the men's 800 metres at the world  championships yesterday with a dominant display of front  running.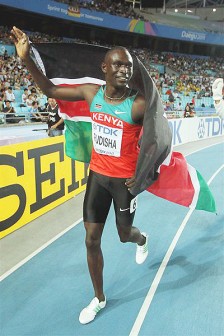 The rangy Kenyan, who broke the world record twice in a week  in 2010, took the title in a time of 1:43.91 ahead of Abubaker  Kaki of Sudan. The bronze medal went to Russian Yuriy  Borzakovskiy.
"Winning the world title is very important to me, more  important than the world record" the 22-year-old Masai told  reporters.
"The title will remain with you for the rest of your life  but the record can be broken."
Rudisha is unbeaten over the distance in two years, his last  loss coming when he failed to qualify for the 2009 world  championship final in Berlin.
He made his intention clear from the start, outpacing Kaki  at the line break to settle in comfortably at the front of the  field away from trouble.
Double world indoor champion Kaki tucked in behind the  languid Kenyan, and looked trapped when Borzakovskiy moved up on  his shoulder before Rudisha pulled away down the back stretch.
"I controlled the race from the start, that was my plan, I  did not want to make a mistake," he added. "And I also knew that  I was in good shape. Nevertheless, I spared my energy until the  last 150m."
Kaki's rivalry with Rudisha looks set to reach new heights  at the London Olympics next year.
"David Rudisha is a friend. He's been dominating last year  and this year," said Kaki, who squeezed into the final after a  setting a suicidal pace in the semi-final.
"I am happy for him and these two medals are for Africa. I  will continue to race for northern Sudan."
South Sudan declared independence on July 9, after  southerners overwhelmingly voted to secede from the north in a  January referendum.
Comments
EUGENE, Oregon,  (Reuters) – Keni Harrison equalled the second-fastest 100 metres hurdles ever run and fellow American Justin Gatlin breezed to a sparkling but wind-assisted 100 metres victory at the Prefontaine Classic Diamond League meeting yesterday.
LONDON, UK,  CMC – Usain Bolt led his Racers Track Club (RTC) of Jamaica to victory in the 4×100 metres relay to culminate the Sainbury's Anniversary Games  yesterday.

'A' Division on 96 points maintained its lead at the end of the second day of the Guyana Police Force (GPF) annual Inter-Division track and field championship at the Police Sports Club ground, Eve Leary yesterday.

ST.GEORGE'S, Grenada,  CMC- Reigning World and Olympic 400 metres champion Kirani James is Grenada's sports personality of 2012, copping his fourth consecutive title at the weekend.

By Iva Wharton Coming off a sub par year in 2011 by her usual lofty standards, top female long distance athlete Alika Morgan is contemplating participating in more international competitions this year.