DAEGU, South Korea, (Reuters) – Teenager Kirani James  exploded on to the world stage with a thrilling victory in the  400 metres final to give the tiny Caribbean nation of Grenada  its first world championships medal yesterday.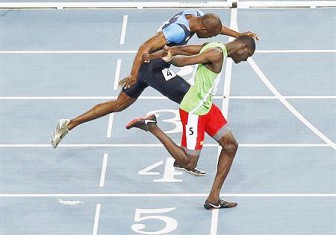 Just two days short of his 19th birthday, James nervelessly  chased down defending champion LaShawn Merritt on the home  straight and surged past the American just before the line to  claim the gold medal in a personal best time of 44.60.
"It's a great feeling, but it's a great just being here  representing my country," James said. "I was just trying to  relax and finish strong."
Olympic champion Merritt came round the final bend with what  looked like a comfortable lead before being beaten by James's  finish, grabbing the teenager around the waist when they had  crossed the line in a belated attempt to slow him down.
Merritt, who returned from a 21-month ban for doping in July  and set the best time of the year in the first round in Daegu,  took his second world championship silver medal in 44.63.
"He's a great athlete, I just didn't have a great day," said  the 25-year-old. "44.60, I'll take it. I'm back."
Belgium's Kevin Borlee, whose twin brother Jonathan finished  fifth in the final, claimed bronze in 44.90.
James, the third youngest men's champion at a world  championships, only made his debut as a professional athlete at  the Diamond League meeting in London this month after racking up  a string of junior titles and records.
Two years ago he broke Usain Bolt's six-year old CARIFA  Games 400m record and he was named his country's sportsman of  the year at the age of 17 after winning the 2010 world junior  title.
"He's not one of those who's cocky, he would love the  attention to be taken away from him, but inside is a drive," his  coach Harvey Glance told Reuters.
"He's a freak of nature. At 18 he's the first to make a  final and then he goes out and wins the 400 metres. He's  destined for greatness."
With Merritt still unsure whether he will be able to defend  his Olympic title in London and his injured compatriot Jeremy  Wariner a fading force, James will be a welcome addition to the  400m.
James's time was the slowest winning mark in the last four  world championships and what fans of the one-lap race really  want is a runner who can challenge Michael Johnson's 12-year-old  record of 43.18.
The cool Grenadian said he hoped he would be able to better  the mark, but coach Glance was more convinced.
"Very much so, he's just 18 years old," he said. "When  Michael broke his record he must have been 26-27 years old. He's  only going to get faster and stronger.
"He really wants to put his country on the map.
"We want to rewrite history, in his own way, not in the way  of Michael Johnson or Butch Reynolds, he just wants to be Kirani  James."
Comments
EUGENE, Oregon,  (Reuters) – Keni Harrison equalled the second-fastest 100 metres hurdles ever run and fellow American Justin Gatlin breezed to a sparkling but wind-assisted 100 metres victory at the Prefontaine Classic Diamond League meeting yesterday.
LONDON, UK,  CMC – Usain Bolt led his Racers Track Club (RTC) of Jamaica to victory in the 4×100 metres relay to culminate the Sainbury's Anniversary Games  yesterday.

'A' Division on 96 points maintained its lead at the end of the second day of the Guyana Police Force (GPF) annual Inter-Division track and field championship at the Police Sports Club ground, Eve Leary yesterday.

ST.GEORGE'S, Grenada,  CMC- Reigning World and Olympic 400 metres champion Kirani James is Grenada's sports personality of 2012, copping his fourth consecutive title at the weekend.

By Iva Wharton Coming off a sub par year in 2011 by her usual lofty standards, top female long distance athlete Alika Morgan is contemplating participating in more international competitions this year.