Former Commonwealth Games gold medallist and 2002 National Sportswoman of the Year, Aliann Pompey said her failure to reach the final of the 400m at the World Championships was an emotional loss.
Pompey had a disappointing outing at the World Championships in Daegu, South Korea when she failed to get past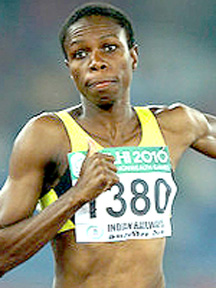 the first round in the 400 metres last Monday.
The two-time Commonwealth medalist lost the race in the final 150 metres where she was seemingly a bit tired as she placed fifth in a time of 53.59s.
Antonina Yefremova from Ukraine eventually won the race ahead of Pompey in a time of 51.35s.
Speaking with Stabroek Sport, Pompey partially attributed her performance to the small amount of sleep she had gotten since arriving in Daegu.
"Well the loss was emotional for me, it was just a bad run…I didn't get much sleep since arriving here because of the time difference and I think that contributed to my bad run in the 400," Pompey stated.
With her stint in Daegu now over, Pompey will now have to go back to the drawing board in preparation for next year's London Olympics.
She already has committed to preparing for the 2012 Olympics so the 400 metres specialist will probably have to tweak a few parts of her race in order to bring home Olympic medals that has eluded her over the span of her career which is seemingly coming to an end.
Comments
EUGENE, Oregon,  (Reuters) – Keni Harrison equalled the second-fastest 100 metres hurdles ever run and fellow American Justin Gatlin breezed to a sparkling but wind-assisted 100 metres victory at the Prefontaine Classic Diamond League meeting yesterday.
LONDON, UK,  CMC – Usain Bolt led his Racers Track Club (RTC) of Jamaica to victory in the 4×100 metres relay to culminate the Sainbury's Anniversary Games  yesterday.

'A' Division on 96 points maintained its lead at the end of the second day of the Guyana Police Force (GPF) annual Inter-Division track and field championship at the Police Sports Club ground, Eve Leary yesterday.

ST.GEORGE'S, Grenada,  CMC- Reigning World and Olympic 400 metres champion Kirani James is Grenada's sports personality of 2012, copping his fourth consecutive title at the weekend.

By Iva Wharton Coming off a sub par year in 2011 by her usual lofty standards, top female long distance athlete Alika Morgan is contemplating participating in more international competitions this year.