DAEGU, South Korea, (Reuters) – After putting her  life on ice for two days, defending champion  Allyson Felix eased  into the final of the women's 200 metres at the world  championships yesterday.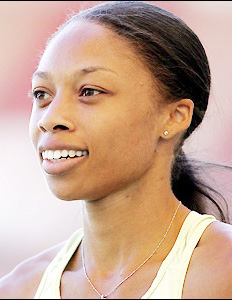 Pipped to the gold medal in the 400 on Monday, the American  admitted to feeling sluggish when returning to the more familiar  discipline of the half-lap at the Deagu Stadium.
The 25-year-old progressed comfortably enough despite  finishing second in both in her morning heat and evening  semi-final, where she ran 22.67 seconds but was beaten by  Olympic champion Veronica Campbell-Brown.
"I just wanted to qualify easily and set myself up for  tomorrow," Felix told reporters. "I wouldn't be human if I said  I felt great."
Felix, attempting her first 200-400 double at a major  championships, said she had spent the two days between her  events taking it as easy as possible.
Comments
EUGENE, Oregon,  (Reuters) – Keni Harrison equalled the second-fastest 100 metres hurdles ever run and fellow American Justin Gatlin breezed to a sparkling but wind-assisted 100 metres victory at the Prefontaine Classic Diamond League meeting yesterday.
LONDON, UK,  CMC – Usain Bolt led his Racers Track Club (RTC) of Jamaica to victory in the 4×100 metres relay to culminate the Sainbury's Anniversary Games  yesterday.

'A' Division on 96 points maintained its lead at the end of the second day of the Guyana Police Force (GPF) annual Inter-Division track and field championship at the Police Sports Club ground, Eve Leary yesterday.

ST.GEORGE'S, Grenada,  CMC- Reigning World and Olympic 400 metres champion Kirani James is Grenada's sports personality of 2012, copping his fourth consecutive title at the weekend.

By Iva Wharton Coming off a sub par year in 2011 by her usual lofty standards, top female long distance athlete Alika Morgan is contemplating participating in more international competitions this year.