DAEGU, South Korea, (Reuters) – After putting her  life on ice for two days, defending champion  Allyson Felix eased  into the final of the women's 200 metres at the world  championships yesterday.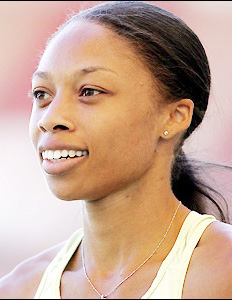 Pipped to the gold medal in the 400 on Monday, the American  admitted to feeling sluggish when returning to the more familiar  discipline of the half-lap at the Deagu Stadium.
The 25-year-old progressed comfortably enough despite  finishing second in both in her morning heat and evening  semi-final, where she ran 22.67 seconds but was beaten by  Olympic champion Veronica Campbell-Brown.
"I just wanted to qualify easily and set myself up for  tomorrow," Felix told reporters. "I wouldn't be human if I said  I felt great."
Felix, attempting her first 200-400 double at a major  championships, said she had spent the two days between her  events taking it as easy as possible.
Around the Web