The popular play Watch De Ride by Guyanese playwright Ronald Hollingsworth is a drama arising out of an act of carpe diem.  It seized the moment to produce a topical issue play at a time when that topical issue was hot.  It goes into the popular culture to address a phenomenon known as 'bus riding,' a very familiar happening on the streets of the Caribbean that had such wide popular interest, and had generated so much excitement and so much concern that when a popular play came out to dramatise the subject it was a box office gold mine.
Hollingsworth struck a rich vein in that mine with the production of a play that joined the list of Guyana's most 'in demand' plays.  However, unlike most of the others on that list, which includes his own Till Ah Find A Place, Sir Ian Valz's Two's A Crowd and The House of Pressure, and Paloma Mohamed's Anybody Seen Brenda? it has surprisingly not had repeated re-runs over the last decade.

It was only in October 2010 that it was resurrected on the local stage.  A group called Horizon Arts Production with well known actors Mariatha Causway, Sheron Cadogan-Taylor, George Brathwaite and Lionel Whyte as directors brought it back with Causway (better known as Jennifer Thomas) as artistic director.  According to her (in the Programme Notes) they had all worked with Hollingsworth in the box office success of 1995 and did this revival with his collaboration.  They used a whole range of many new and some familiar actors to fill the play's very large cast, but did not specify in a dramatis personae who played which specific character.  It tells the tragic story of a schoolgirl who deceives and defies her family to follow an ill-fated affair with the fashionable pastime of 'bus riding.'
The popular culture is a large, complex and multi-faceted socio-cultural mix which has given rise to many urban traditions among the people of the Caribbean.  Some of these have given the world priceless and unfathomable creativity such as reggae and dancehall, the Trinidad carnival, calypso, soca and the steel band.  But it has also produced some curious phenomena, one of which is this bus-riding craze which emerged out of a popular sub-culture of the dancehall and the rapid development of the minibus as the dominant form of public transportation in the 1990s.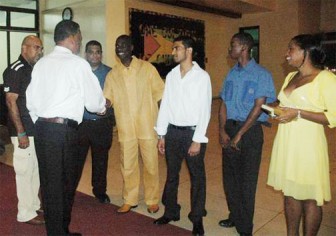 It curiously developed almost independently in at least four Caribbean countries.  It evolved around the form of transportation known as the minibus or bus in Guyana, the minivan in Jamaica and the maxi-taxi in Trinidad and Tobago.  It evolved after these vehicles took over from the regular large buses in Kingston, added to the larger buses in Barbados, filled a void after the decline of the Tata buses and the inability of the route taxis (hire cars) to cope in Guyana, and added to the fleet of regular taxis and replaced them on many routes in Trinidad.  They immediately became the most popular form of transportation in all these countries and were particularly suited to a bustling, road-wise street scene, a hectic, chaotic, often renegade urban environment and soon evolved their own sub-culture highly influenced by the dancehall.
One of the greatest curiosities about it, and the source of the greatest concern that quickly emerged, was the way it attracted teenage schoolgirls.  This environment became a world inhabited by bus drivers and conductors who were badly dressed, untidy, uncouth, loud, aggressive and uncultured young men. Perhaps from a disapproving male point of view, it baffled the mind to figure out how on earth this tribe could be found attractive by educated girls who ought to have greater ambitions and a more informed and cultured taste in men.  Nevertheless, in all those countries bus-riding became a very fashionable pastime among the girls who would have favourite buses on which they travelled, often missing school to do so, and often striking up affairs with the drivers and conductors.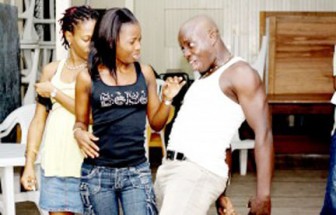 But there were many attractions.  To vie for passengers, the 'in thing' was to 'dress' the buses with  appealing colours, fashionable window tints, catchy names and slogans;  and equip them with powerful speakers and the best collection of the most popular music, mostly dancehall.  Those buses without these attributes were left behind and branded as "cork-balls."  While those 'dressed' enticed the girls, the corkballs were ridiculed.  In addition, it meant free rides, no fares being paid and the receipt of some 'change' for lunch or snacks every now and again. For obvious reasons this practice became a social concern.
The environment is normally noisy and anarchic and this mode of transport was eventually diminished in Jamaica which brought back the big buses, while all kinds of action was taken by the authorities in Barbados, and caused Guyana to ban music in the buses and force the removal of all tints, names and slogans.
Hollingsworth's Watch De Ride directed by Causway (Thomas) reflects this issue of bus riding and presents a family in which the teenage daughter (Melissa King) and her close friends are all involved in it.  She has weak home control because her father (Henry Rodney) is in a wheelchair after being struck down by a careless, speeding minibus.  Her mother (La Vonne George) exercises poor judgement, is a poor listener and is quick to retreat into denial.  She is particularly unfair to her son (Lezhan Lord) and oldest daughter (Clemencio Godette), representatives of conscience and better judgement, who try to warn her. The family owns a bus which is presented in the play as a symbol of evil and destruction and a threat to a stable family.
The play took great pains to realistically show the noisy, virile bus park with its characters, predatory bus crews and the most brazen schoolgirls.  It captures all the dangers lurking for girls travelling by the buses.  It counters the popular thrills of the bus park and the amusing fashionable girls with the grim realities and tragic outcomes.
Apart from the young boy in the home and the older sister who present dramatic opposition to the popular pastime and are well handled, the other real alternative voice in the play fails.  Quite usefully Hollingsworth puts in one young man at the bus park who speaks out strongly against what his colleagues are doing, but he fails as a character in this role of conscience since he comes over as a moralistic preacher who the audience is inclined to laugh at rather than listen to.
In other dramatic details, the play's meaning was threatened by a too-lengthy and repetitive sequence of wailing and lamenting by the tragedy-struck family whose boredom and wearisomeness lost the sympathy of the audience. More importantly, the attempt at catharsis is flawed because at the end when all calamity is supposed to be overcome by family bonding, understanding and healing, one necessary part is missing.  While the girl at the centre of the conflict receives her family's support at that point, she gives nothing at all.  She learns that it was her errant minibus crew who struck down her father on the road; she then learns that her boyfriend, a member of that same crew, is illiterate, but it has no influence on her;  worse than that, she witnesses him beating her crippled, helpless father.
Despite all that, she protects them, does nothing and is satisfied to allow them to get away with a series of criminal acts against her own family who provide her with full support at the end.  Catharsis has therefore failed and the play does not end with a process of healing, but with a different statement.
The very last line is, however, symbolically effective when another family, a mother and her two teenage daughters come offering to buy the bus that was responsible for all the trouble.  It suggests that the cycle continues.
Around the Web