(Poui, Cave Hill Journal of Creative Writing, No: XI, December 2010; eds Mark McWatt, Jane Bryce, Hazel Simmons-McDonald, Mark Jason Welch, Dept. of Language, Linguistics and Literature, UWI, Barbados; 186 p)
As Poui celebrates the publication of its eleventh edition, the editors have found the best way to summarise the nature of its achievement and its place in contemporary Caribbean literature.  They claim it as "the natural successor to the small magazines which nurtured the early growth of Caribbean writing  –  Bim, Kyk-over-al, The Beacon etc."  That is not a boast.  It is true.
There has been a series of very important literary journals and like publications across the Caribbean that have significantly shaped West Indian literature and contributed to its growth.  These include Trinidad and The Beacon, published in Port of Spain between 1929 and 1939 by CLR James and a long list of other progressive writers interested in social realism;  Bim (1945) edited for much of its life by Frank Collymore;  Kyk-over-al (1945) founded in Georgetown by AJ Seymour, later revived under joint editorship with Ian McDonald, and later still, joined by Vanda Radzik;  Focus (1942) edited by Edna Manley in Kingston and including such others as Roger Mais and MG Smith.  Other journals have played their part from time to time, such as Jamaica Journal, Caribbean Quarterly, Savacou, Tapia / Trinidad and Tobago Review, and now The Arts Journal in Guyana.

When Poui celebrated its milestone tenth anniversary in 2009 with the release of Poui X, it was confirmation that the publication had come of age in many different ways, had found an identity and region-wide recognition as the foremost periodical of its type.  It had settled down into a professional, new and attractive format and was the sought-after outlet for dozens of new/emerging/rising writers.  What deepens it and enhances its reputation, however, is that it is the sought-after outlet for the established and celebrated writers of the region as well.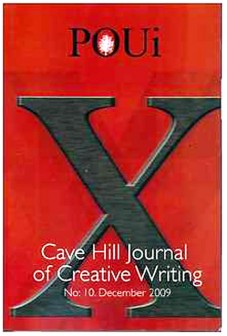 It has its own place and establishment as the journal that is now doing what those distinguished periodicals in the history of West Indian literature did for the region's writing.  This Cave Hill Journal of Creative Writing published by the Department of Language, Literature and Linguistics at UWI in Barbados and edited by Mark McWatt, Jane Bryce and Hazel Simmons-McDonald, now joined by Mark Jason Welch, has given itself a very appropriate poetic title.  It was taken from 'Poui,' a very sensual poem by Lorna Goodison about the spectacular seasonal flowering of the poui tree.  It fits the annual outpouring of beauty and the colour exploding from the journal's new work each annual season.
But 'poui' is also the battle cry of the stick-fighter whose weapon is made from that same tree and is an expression of the potent, energetic advance of the creative force celebrated in song, dance and defiance which represents the vanguard advance of a powerful tradition.
Poui XI marks a tradition even as it exhibits new emerging traditions and even as the year 2010, its eleventh anniversary, celebrates it as the literary tradition that it has emphatically become.
Around the Web