Nrityageet is "a pure dance theatre production reflecting the creativity and innovation of three generations of dancers, choreographers and producers."  This is how the director Seeta Shah Roath describes the production as she introduced the performance in the Programme Notes of Nrityageet 32 at the National Cultural Centre.  In that brief reference she manages to capture elements of the history of not only her own production, but of the current state of contemporary dance performance in Guyana.
This is because in performing its 32nd annual programme of choreographies in a full dance theatre presentation, it was continuing the achievement in Guyana of a substantial dance theatre which began its development on this current path around the same time that Nrityageet was founded.  Presently Guyana can count at least seven major competent public and private dance companies who consistently stage full productions at the national level in addition to occasional selections on different programmes.  They are part of a tradition that began to establish itself in the late 1970s when the important institutions of the National School of Dance and the National Dance Company were founded.

That was not the beginning of dance in the country.  There were already outstanding examples of dancers, choreographers and producers in different areas of dance.  Helen Taitt had already become a legend in ballet and other forms of classical dance, with a history of concerts promoted by Woodbine House and a historic dance drama called Stabroek Fantasy standing out in the record of her achievements.  Rajkumarie Singh had been known as well for what she promoted in different forms of dance, while Gora Singh had been among the leaders in Indian dance. 
The formation of the first public school and company, however, reflected another kind of development and actually set off the next chapter in the history of national dance.  It reflected one of the outcomes of republicanism in Guyana and its close associations with such other Caribbean republics as Haiti and Cuba in advancements in the field of culture.  Celebrated Haitian dancer Lavinia Williams was instrumental in the eventual setting up of a national school, while Cuban dancers were visiting tutors and performers in its early years.  This advance meant that opportunities for training in dance multiplied locally.  Formal study in the field was more accessible and did not necessarily mean having to go overseas for training, at least to the level of technical competence (an academic programme is still to materialise).  The National School also introduced for a few years a dance teachers' course which helped for classes in secondary schools.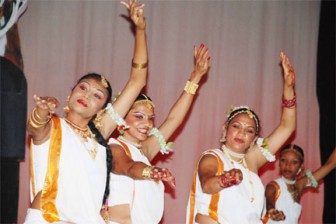 The other important development in the seventies was the establishment of the National Dance Company which was another step forward following the idea of a national school.  The visiting Cuban tutors and choreographers such as Gerardo Lastra also contributed as performers and designers to add strength to the new company.  It went a long way in sustaining interest in dance while providing occupation for trained dancers and spreading the gospel of dance around the country.  It led to the popularisation of this performing art and eventually to the formation of other companies.  It served as catalyst and opener of doors to the current environment in which many more persons were empowered to teach dance, start up private dance schools and private dance companies.
There were also interesting developments in Indian dance because this particular form has always been sustained by Hindu religious practice.  The cultural outreach associated with Hindu festivals and activities was already taking the dance to communities, but the new thrust in training also included a more national interest in Indian dance.
It was not only a part of the local curriculum, but more dancers were sent to India to study the form, including one of the nation's most outstanding dancers, Philip McLintock.  More local training also became available through the Indian Cultural Centre.
Nrityageet virtually emerged out of the combination of these developments.  Two sisters, daughters of Cyril Shah, Nadira and Indranie Shah who had received training in dance, who had an interest in Indian dance and who belonged to a family with its own history of deep involvement in the performance industry, became founder members of the Nadira and Indranie Shah Dance Troupe, one of the private companies already referred to and a pioneer in this enterprise.
 Their first activity was the dance theatre called Nrityageet, first performed to commemorate the anniversary of Indian Arrival and what Dr Shah Roath describes in the Programme Notes as "the spirit of our ancestors who faced countless ordeals to survive" and "achieved dreams of… cultural retentions," among other things.  Nrityageet became an annual production always on or close to May 5, and gradually improved in quality.
Seeta Shah Roath's mention of "three generations of dancers, choreographers and producers" is apposite.  Other co-founders of the troupe and the annual production are Bhanmattie Shah, mother of the three sisters Indranie, Nadira and Seeta. 
Those are named as co-founders and now as co-producers with the addition of Suzanne Shah Nilsson, daughter of Seeta.  The family's involvement in production goes well beyond that, since Cyril Shah (known as Shaw) was much involved in British Guiana's vaudeville industry and is the producer responsible for The Mighty Sparrow's career in pre-Independence Guyana and most of his concerts in the country afterwards. 
Dr Shah Roath's Programme Notes continue: "Produced and performed by the Nadira and Indranie Shah Dance Troupe, MS, Nrityageet has been presenting annual performances for over 30 years."  The troupe "received the National Award, the Medal of Service, for "Our Sustained and Outstanding Contribution to the Cultural Mosaic of Guyana."  The production has won many other competitive artistic awards in the Guyanese theatre.
Their 32nd annual performance reflected the diversity of their interests in a variety of dance forms, which is a development over the years from their original focus on Indian dance.  There was quite a range of choreographers and types of dance presented.  The 'resident' choreographers included Nadira Shah Berry, Suzanne Shah Nilsson and Rewattie Datt, but the programme featured the work of several others in a performance of significant variety.  Nrityageet invited in several guests including the National School of Dance and their tutors Linda Gtiffith and Vivienne Daniel, the Indian Cultural Centre with work by Mousumie Saha, North Georgetown Primary School and individuals such as Kijana Lewis, as well as performance poetry, a regular feature by Seeta Shah.
The inclusion of Lewis was significant.  His duet performed with Suzanne Shah was a high point of the production, signalling what is also the high point of dance in Guyana. 
Surely both Kijana Lewis and Suzanne Shah are currently at the top of contemporary Guyanese dance.  At a time when there are many high quality male dancers in the country, especially with the rise of Clive Prowell's Classique group, Lewis manages to dominate because of his class, creativity and prolificity.  The duet held no surprises in his demonstration of technique, energy, dramatic quality and sensitivity.  Suzanne has emerged out of an apprenticeship in Nrityageet to be now among the leading dancers in Guyana and combined effortlessly with Lewis.
Other dancer-choreographers had multiple works in the programme such as Amanda DeFreitas, Amanda Singh and Indira (or Indra?) Etwaroo.  Nadira Shah was able to appear, mainly in solos, in the comfort that the annual production is now a fixed tradition which creates opportunities for several others  in Guyana to progress in the field of dance.
Around the Web