In November 2010 the Guyana Prize for Literature announced that it was opening a new page in its literary activities to strengthen its developmental partnership with Caribbean literature.  It has always been the intention of the Prize to provide encouragement for the development of good creative writing in both Guyana and the Caribbean.  The new Guyana Prize for Literature Caribbean Award was established to serve that purpose more directly than has been the case so far with the award of Prizes to Guyanese authors. The Caribbean Award has also decided to select a West Indian writer most deserving to be honoured for an overall or lifetime achievement in regional literature.  This is in addition to the regular Prizes in Fiction, Poetry and Drama, and is the first of its kind in the Caribbean.
The inaugural presentation of this Recognition for Achievement in West Indian Literature is to be made to Sir Theodore Wilson Harris, Guyanese novelist, literary critic and theorist.  This recognition is for the achievement of excellence as a writer, and Harris qualifies on that count.  But he also has the distinction of having made a sustained and outstanding contribution to the literature through his interventions in criticism, theory and thought.
To add to this, and to provide a series of events to focus Sir Wilson, there was also a Wilson Harris Lecture presented on Friday September 2 at Castellani House.  This was a joint presentation by the University of Guyana and the Guyana Prize and highlighted and analysed the author's work in a public lecture.  The University of Guyana Library has also assembled exhibits of Harris's work and related criticism in a display which was added to the Guyana Prize Exhibition on September 1.


Why then, does Sir Wilson hold this exalted position among writers in the West Indies?  Over the years his work has not been known to be among the most popular, and in fact many readers have complained about how inaccessible he is.  He has a reputation for difficult writing which many claim limits his readership.  Yet one of the foremost world publishers Faber and Faber has kept faith with him since Palace of the Peacock in 1960.  Jamaican novelist and non-fiction writer Andrew Salkey told a story about the start of Harris's relations with Faber when he submitted his first novel to them and they were perplexed.  Salkey, who was among the first flight of West Indian writers who contributed to the famous BBC programme Caribbean Voices and developed the literature in London, was a reader for Faber.  He presented them with a careful and detailed opinion setting out why the novel was important and worth publishing and why they should accept it as an unusual but great piece of work.  Since then Faber has continued to publish Harris, even with reprints, although sales did not soar to best-seller status.  It is because, as Salkey pointed out, they have been dealing with an extraordinary talent and a weighty and important contributor to the literature.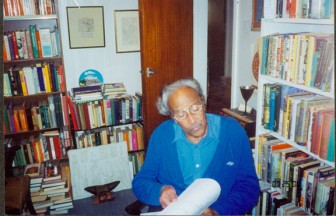 Long before Palace of the Peacock, Harris had been involved in writing in British Guiana, and actually started in the field as a poet, publishing in Kyk-Over-Al in the very early fifties with one of his earliest publications being Eternity to Season, which included a play which drew on Greek myth with its main metaphor of  'The Beggar as King' taken from Ulysses (or Odysseus).   But the depth of his mind would later take him into critical and philosophical thought about literature in the Caribbean, which was to develop to such an extent that Harris and Harris criticism became quite an industry among critics and universities.  A good example of this is the attention it attracted from the University of Texas and then at various points around Europe.
Some of Sir Wilson's earlier critical writings remain acclaimed sources of foundation study, such as his evergreen 'History, Fable and Myth in the Guianas and the Caribbean' and Tradition, the Writer and Society.  He developed pertinent theoretical discourses in which he studied the culture and myth of ancient Mexico, taking an interest in the Central American empires raided by the Spaniards, and the relevance of their pre-Columbian mythology and cultural traditions.  His thoughts became increasingly influential through many other works including The Cross-Cultural Imagination  and the significant essays collected by Avery Bundy, so that Harris earned a place in the literature that was immensely important quite outside of his creative writing.
He has produced major West Indian fiction, including many novels within the 'canon.'  This work exhibits a very wide range and a thoroughly startling variety of the imagination.  The Guyana Quartet contains four novels highly acclaimed in West Indian literature  –  Palace… is one, but the others are The Far Journey of Oudin, The Secret Ladder and The Whole Armour.  Another major group is The Carnival Trilogy in which he makes his significant contribution to environmental issues, an approach to race, history and the self-destructive cycles re-enacted by mankind over history.  These novels are Carnival, The Infinite Rehearsal and The Four Banks of the River of Space, which were closely followed by Resurrection at Sorrow Hill.
While there are recurring themes pursued over several novels by Harris, there is also a range of interests that produced different works such as Companions of the Day and Night, set in Mexico based on the ancient posada ritual and one of his 'carnival' studies.  Another is Black Marsden set in Scotland, and Da Silva Da Silva's Cultivated Wilderness  in London around a park with a members' club frequented by Harris. These books are a bit different from the many in which Sir Wilson delves into his more inaccessible discourses.
However, in these works he does not just treat the complex themes and styles that baffle readers, but produce some of the most exceptional books.  They demonstrate one of Harris's greatest qualities, which is one of the reasons for his importance and his deserved high regard; that is, his extraordinary originality.  He was never satisfied with simply developing a plot around a theme, he sought to interrogate the form of fiction writing.
One insightful critic Kathleen Raine explains Harris's profundity and importance to contemporary fiction with a very bold statement.  She wrote that the English novel owes a great debt to Harris.  Its form had become static over 100 years since the Victorians and it took the emergence of a writer like Harris to radically disturb its complacency.  It is this originality that exalts him in contemporary literature.
His background is in science and technology since his professional training was as a hydrological surveyor, and Michael Gilkes is known to have remarked that it is no wonder Harris writes in the styles that he does, because he spent 17 years in the wilderness of British Guiana talking to himself.  Indeed his experience measuring and mapping the country counted significantly in what and how he wrote.  It did not only assist him with plot material, as in The Secret Ladder with its whiff of autobiography, but provided thorough delving into metaphor and metaphysical conceits.  The rainforests became not only environment, but metaphor and form.  As a mathematician, this experience also inspired him to use the mathematical theory of Chaos as a writing strategy and contributory form.  This can most be found in the novel Jonestown.
It is not surprising then, that Sir Wilson Theodore Harris should have been selected by the Guyana Prize for Literature Caribbean Award as its first Caribbean writer to be recognized with the Honorary Award for Achievement in West Indian Literature.
Around the Web