If We Must Die
If we must die, let it not be like hogs
Hunted and penned in an inglorious spot,
While round us bark the mad and hungry dogs,
Marking their mock at our accursed lot.
If we must die, O let us nobly die,
So that our precious blood may not be shed
In vain; then even the monsters we defy
Shall be constrained to honour us though dead!
O kinsmen! We must meet the common foe!
Though far outnumbered let us show us brave,
And for their thousand blows deal one deathblow!
What though before grave?
Like men we'll face the murderous, cowardly pack,
Pressed to well, dying, but fighting back!
                                                 Claude McKay
Caribbean poetry is very rich in verses relevant to the observance of the United Nations declaration of 2011 as The International Year of People of African Descent.  It is rewarding to make critical reference to many of them because of their subjects, the kinds of stylistic qualities to which African traditions have contributed and the oral literature that has emerged in the Caribbean from the cultural heritage and ethos of the people being celebrated through the year.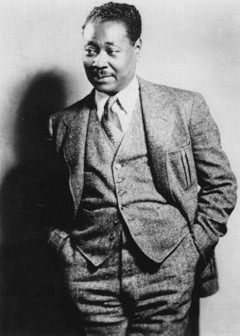 There are many notable examples of this poetry.  One may mention Trinidad and Tobago's Eric Roach who wrote 'Verse in August'; one of the foremost writers of the region, Lorna Goodison of Jamaica, who has dedicated many poems to this theme in celebration of people of African descent.  If one goes beyond the West Indies to include the whole of the Americas, one will have to remember Aimé Cesaire of Martinique, the Negritude theorist who in the 1960s was described as the black Caribbean poet with the greatest international impact, and Cuba's Nicholas Guillen.
But among the most important publications is a major collection Black Writers of America, A Comprehensive Anthology edited by Richard Barksdale and Keneth Kinnamon, published in New York by Macmillan in 1972. This by itself is a monumental dedication to this theme, documenting as it does a thorough historical coverage of black American writers from the time of slavery, including many samples of oral and folk literature, right up to leading twentieth century poets and prose writers.
Very interestingly, among those is the poet and novelist Claude McKay (1889-1948).  Although he is listed among American writers he was a Jamaican and recognised as a West Indian writer of the first half of the twentieth century.  He started his career as a policeman in the island of his birth, began to write poetry and then novels.  McKay, however, later went to the USA, but also lived for a period in Paris, France, before returning to New York.  In addition, at one time he embraced communism and spent time in Moscow and London.
Most likely he was claimed by America because of his period of residence there, but there are specific reasons why he is important to the theme of poetry relevant to a celebration of People of African Descent.  This is not only because of his race.  His contribution to American poetry was partly made during the Harlem Renaissance in the 1920s, which also involved fellow Jamaican Marcus Garvey.  Garvey himself was closely associated with this golden period in American literature, but his own verses have more value as a part of his political endeavours than as good poetry. Historian Tony Martin published accounts of this and a collection of Garvey's poems in Literary Garveyism (The Majority Press), as well as a collection of Garvey's poems.
McKay's work was much more substantial.  As a novelist his major works include Home to Harlem (1928) written in France, and Banana Bottom (1933).  The latter is set in rural Jamaica and reflects his communist tendencies in the class and cultural analysis that he provides in the tale of Bita Plant, a country girl with a sound classical education and a working class environment.  He therefore contributed to West Indian and Black American fiction, particularly since Banana Bottom is among the early (pioneer) novels.
His contribution to poetry is quite special.  McKay published two small volumes of poetry Songs of Jamaica (1911), and Constab Ballads (1912), published in England  which may be the first attempts by a Caribbean poet to publish poems in Creole. They were obviously influenced by his work in the police force, but reflect his Marxist sympathies since they try to articulate the voice, language and trials of the black Jamaican working class.  Other poems of his were published in the USA including selections in The Liberator, in Cambridge Magazine, and in a Garveyite magazine Negro World.  According to editors Barksdale and Kinnamon, the great English literary critic I A Richards called McKay's poetry "among the best work that the present generation is producing."
One of his most famous poems is 'The Lynching' written in the form of the English sonnet about racism in the American South, describing feelings and attitudes around the murder by lynch mobs of a black man with strong suggestions of continuity and succession among a culture of anti-black racism and violence. While this speaks specifically to racism and black oppression, what is his best known and most celebrated poem is more universal.  This is another sonnet 'If We Must Die' (1919), which had wide international appeal because it can be read to suit a variety of situations and causes and is not confined to a black cause.  It may be interpreted as a war poem or as a patriotic anthem, et al.  A story was in circulation that a copy of this sonnet was found on the battlefield in the possession of a British soldier killed in the war.
The Lynching
His spirit in smoke ascended to high heaven.
His father, by the cruelest way of pain,
Had bidden him to his bosom once again;
The awful sin remained still unforgiven.
All night a bright and solitary star
(Perchance the one that ever guided him,
Yet gave him up at last to Fate's wild whim)
Hung pitifully o'er the swinging chair.
Day dawned, and soon the mixed crowds came to view
The ghastly body swaying in the sun.
The women thronged to look, but never a one
Showed sorrow in her eyes of steely blue.
And little lads, lynchers that were to be,
Danced round the dreadful thing in fiendish glee.
Claude McKay
Around the Web