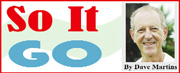 I sometimes play this game where I ask persons to complete the following sentence: "You know you're in the Caribbean when…"  You get some delightful responses and often surprises; you should try it some time. To illustrate, here are some of my own:
In the washroom at an international airport, there is a neatly-lettered sign in the men's toilet. "Please don't stand on the toilet seat.  Our toilets are cleaned and sanitized regularly."  Only in the Caribbean, I think.
Or you know you're in the Caribbean when the toilet-door lock, in public buildings, either doesn't line up or is missing completely; some time ago, I saw that in two hotels in Cuba, including, on the Bible, the former Hilton.
You don't have to look; if you're checking in at an airport and the lady in front of you is unpacking stuff from one suitcase into another suitcase, to make the baggage weight limit, while the husband stands there fuming, you're in the Caribbean.  Sometimes the suitcases are so heavy, the travellers bring a muscular friend to check-in – to help lift the bags on the scale. Now you will also see this in airports outside the region, but it's Caribbean people involved, so that's the same thing.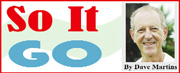 You're staying in this upscale hotel, everything nice, friendly service, but that could be in any country. Here's how you know you're in the Caribbean: the band at poolside in floral shirts is playing a lot of r&b and country music, and here's the clincher: you ask them to play a calypso and they launch into 'Yellow Bird.'
Now, there are some good sides to this exercise.  For example: you were at a house party the night before you travel, and the fete went so late you just barely had time to rush home and grab your suitcase to make the flight. You get on board, and the second the plane takes off you're dead sleeping. You wake up an hour later, and for a second you don't know where the hell you are, but then you smell the curry somebody brought on board, and you remember: you're in the Caribbean.
Speaking of smells: you're flying from Toronto or New York on one of those deadly fly-through-the-night trips that can leave you on edge. As you land at your destination, you could be forgiven if you're a bit disoriented, but as soon as you walk down the stairway from the aircraft, you know you're in Guyana because you smell the fresh pineapple – from the airport vendors.  Now this will happen only when pineapple is in season, but every time it happens it's a sweet welcome home.
In most countries, there is one name for a fruit or vegetable.  However, in the Caribbean, you will hear a bunch of people trying to describe to each other's fruits called chenette, guinep and ackee when in fact all of those names apply to the same fruit. Chenette in Trinidad; guinep in Guyana; ackee in parts of Barbados, and, in the Guyana countryside, skinip – all one fruit.  That's the Caribbean.
When you drop in on a friend unannounced – no phone call, no email – and it's no problem, that tells you you're definitely in the region. In North America, you have to make an appointment before your visit or risk being told, "Really sorry. We didn't know you were coming. You should have called first."  Don't talk about England: there you have to practically apply for a visa or get a transportation clearance first.
I love this one: when you land in a country with endless forms of tea, including coffee tea, green tea, milk tea, siersee tea, cocoa tea, and even blacksage tea, there's only one place you could be – the Caribbean.  In some parts of the region, in fact, some of our brethren use the expression 'tea tea,' which means the standard everyday tea so loved by the English.  Can you imagine the consternation at the Pegasus when the waitress offers a visiting Englander the choice of cocoa tea instead?  I can hear England mumbling to himself, "We really must make an effort to get the Empire going again."
If you go with some friends to visit an area for the first time, and at every house you go to they have prepared a full meal for you, including dessert, you know you're in the Caribbean. Within Guyana this identification is particularly strong in Berbice. I went there with my Vreed-en-Hoop
buddies as a youngster, and we ended up eating four dinners one day – 6pm  mutton curry; 7.30 stewed chicken; 9pm curry again; 10.30 cook-up rice, and dahl by the bucket. We were young, but we could barely walk after the cook-up.
In North America, punctuality is a way of life.  If a meeting is scheduled for 10 o'clock and you waltz in 10 minutes late you get cold stares, and copious clearings of throats. Do it more than once and you get a stern memo.
On the other hand there are places where you will arrive huffing and puffing, half an hour late for a meeting, bracing yourself for the nasty looks, and as you plop in your chair it hits you: you're the only one there; the others are yet to arrive. When the clock says you're late but you're
actually early, you are in the region.
You're dozing on a plane before take-off and you open your eyes to see a lady heading for her seat struggling with three huge carry-on bags, two of which are too big to fit in the overhead.  Wake up, bro, you're in the Caribbean.
True story: about 10 years ago I'm checking in BWEE in Miami. There's a Trini fellow ahead of me with two motorcycle tyres, one slung over each shoulder.  He hands his ticket to the BWEE agent. She points to the tyres.
"What's that?"   Trini says, "That's my carry-on luggage."  Says BWEE incredulously, "Your carry on luggage?"  "Yes, you ain't see ah carryin' it?"  I may have been standing in Miami, but in that BWEE encounter I knew I was right back in the Caribbean.