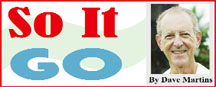 I'm a big fan of the American evangelist Bishop T D Jacques.  The man is simply the best preacher God has ever made; he deals with people trying to cope with life as opposed to parading in some edifice we go to on Sundays. He talks about real dilemmas; not abstract concepts or platitudes. In a recent television presentation he was making the point that we can easily become jaded or cynical from dealing with the setbacks of our lives and that we should take time to step back and look at the good side that is always there, and to draw strength from that.  It's advice more of us in Guyana should follow.
So the next time you doubt our ability to do things in Guyana, take yourself up to the Umana Yana structure in Kingston. Go in the daytime when there is light, stand in the centre of it and look up to the roof structure towering overhead. Look at the intricacy of the work there; the absolute precision of the joints, the tightness of the woven palm cover, the geometric precision of the timbers, and then, reflect that it was built by Guyanese, Amerindians in fact, using techniques hundreds of years old. If you want another example of it, check out the Amerindian benab in Sophia where the same precision and finish are on display. Walk your fancy consultant engineer "from foreign" in there, and his jaw will drop. If he's honest, that is.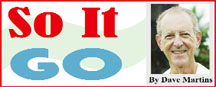 The next time you doubt Guyanese ability as stage performers, spend a few dollars and take in a Le Classique dance show at the Cultural Centre.  What you will see on that stage, driven by Clive the director's excellence, is a polished, exuberant presentation of dance that could comfortably hold its own on any dance stage in any country.  The people doing that work are doing it for very little financial reward.  They are putting in countless hours (the dance discipline is the hardest preparation road in entertainment) and sacrificing time and gain to get to that polish.  Le Classique is a banner for doing it until it's right.
All right, some of our business places are ancient and dilapidated, but the next time you despair about that, swing by the new GBTI corporate headquarters across from the Pegasus.  It looks like something straight out of a First World country. Not only impressive to look at, it is environmentally sensitive, with its own freshwater storage.
I joked the other day that GBTI could step in during blackout and light up Kingston – that's how substantial its electricity plant is. Homegrown family; homegrown building; international standard. There are other examples – the new Gizmos and Gadgets building, and several others going up around town. They remind you that the building scene here is not all bleak.
The next time you wonder about our ability in the literary field, drop into Austin's book store and pick up a book by Oonya Kempadoo or Mark McWatt or Ian McDonald or "the boss" Martin Carter, to name a few. If you're looking for new writers, read the Sunday Arts column in Stabroek News where Al Creighton regularly showcases our fledgling talents.  We tend to have our nose in the air above the crowd of those writings, because they are "local"; by adjusting your gaze and considering them you see the quality shining through. Lack of opportunity and the absence of copyright legislation are barriers in their way, but the writers are there. Never doubt that we have them.
If you doubt our ability in the specialist area, get hold of a copy of Cynthia Nelson's cookbook Tastes Like Home. It is a standout in presentation, print quality, and photography. There is a range of recipes, very useful cooking tips, and Cynthia's grasp of her material as she covers the Caribbean kitchens is impressive.
Some of our business people really neglect their surroundings; some, not all. Come up the Embankment Road to the Ogle traffic light and turn left.  A few yards from the junction, on your left, check out the Andrew Art premises. The place is simply spic and span in every detail from the freshly painted roof to the painted driveway leading to the road.  Just looking at the high standard displayed in that exterior, you have to believe that you're going to find the same high quality of service inside that business.
In the same vein, on the road going into the Ogle airstrip, Unique Auto is another example of a well maintained business premises: trimmed parapets, spotless grounds, no peeling paint, no holes in the concrete, demonstrating that we're capable of doing it right.
Finally, if you're disillusioned about the lack of competence in some of our civil servants, a powerful antidote is to consider Keith Burrowes' writings in the press on our society's problems. A sterling example was his unravelling of the traumas in the Georgetown municipality in the recent Guyana Review section of this newspaper. In it, the professional expertise of the gentleman comes sharply and considerably to bear on the vexing and interwoven problems at play in the scenario around the decay of our city. As Head of the Commission of Enquiry into the Operations of City Hall, Keith Burrowes' delineation of that dilemma is a classic illustration of the point I was making in an earlier column, of the need to "know the fine fine" when pontificating on Guyana's problems. When it comes to the Georgetown fine fine, Keith has his game well in hand. The next time you hear somebody ripping our civil servants (okay, we have some deadwood) point out that we have some good ones. If you're then challenged with the standard Guyanese retort, "Like who suh?" you can safely mention Keith Burrowes – game, set, match.
In case you're wondering why I haven't used any musical examples, that's deliberate. First of all, I don't want to present any evidence that you may reject on the ground that my being a musician prejudices me. Also, and probably more critically, I know the people in the music business very well. No matter how cautiously I go about it, citing some names and leaving out others will cause such an uproar among the brethren that I may have to cut off my cell phone, drive around in a disguise, and relocate my permanent residence to some point south of Surama.
As the saying goes, monkey know which limb to jump on. In the overall, I hope you take my sometimes sly polemic seriously.
Certainly we have to be concerned about the many cracks in the Guyana marble, and about addressing those things, but the next time that kind of deliberation leaves you doubting our abilities, stop and reflect on the Bishop Jacques point: examples of excellence are at hand. Latch onto them.
Around the Web