With a spicy tune advocating the independence of women Fiona Singh sang her way to the Chutney crown for the second consecutive year.
Last Saturday, as a large crowd cheered her on at a ground in Anna Regina, Singh performed "Man in yuh life a nuf nuf stress". Later that night, amidst some surprise, Singh was announced the winner of the 2011 Chutney Competition.
In a brief interview with The Scene on Thursday, Singh said that confidence, good lyrics and great music are enough to haul in the crown. She vied against more than a dozen other contestants who included seasoned Chutney artiste Rajesh B Dubraj, new kid on the Chutney block Adrian Dutchin, who sang "I Ok" and Mahendra Ramkellawan who sang the catchy song "Dem Ah Watch Meh".
Dutchin's song, "I have a little something//with Pepsi and ice and it go down so nice… [but] I okay", which speaks to drinking in moderation, debuted a few weeks ago and seemed to appeal to audiences.
Meanwhile, weeks before the competition Ramkellawan's voice could be heard belting out: "If a buy a house and a new motorcar//Dem ah watch meh". The song lashes out at gossips and was on the tongues of many Guyanese; fans expected him to come out on top.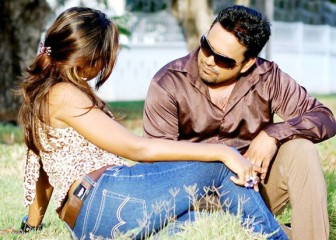 Singh said that even she was impressed by "Dem Ah Watch Meh". "That song is something else… really upbeat and so true," she said. "And competitions like these, whether or not an artiste wins, gives them experience and makes them better in the long run."
The former Sugar Cake Girl, who returned to the Chutney scene officially last year after a maternity break, manages her singing career and family simultaneously and admitted that this is not without its challenges.
"All good things in life come with their bit of hard work," she pointed out.
Her winning song, Singh explained, was composed with the independence of women, young and old, in mind. In the Guyanese and general Caribbean society, she said, it is a fact that many women continue to depend on men financially and in so doing create and fuel a sense of complete hopelessness in their lives.
"I am not saying that women shouldn't have men in their lives," Singh noted, "nor am I saying that men are bad. But I am pointing out that there are bad relationships and that women lose their independence in those bad relationships."
The song's chorus: "Man in yuh life is nuf nuf stress//But money in de bank is nuf interest" sends a strong message to women. Singh said that the aim is not to leave your partner for money or material gain but to ensure that you are capable of being independent of him materially. "I am tired of seeing women's lives fall apart when the man leaves them just because they were not financially prepared for it," the Chutney Queen stated.
As a married woman and mother of one, Singh said, she has not given up her career. She continues to express her individuality and in so doing nurtures her ability to be independent even while in a marriage. The ability to do this, she said, relies heavily on having an understanding and supportive partner. "I consider myself lucky to have found that support… and for those women who are not getting that support you will have to just wake up one day and realise you have to grab it."
Singing is not her only talent. On the sets of Wildfire Productions Singh becomes quite an actress in music videos. The singer told The Scene that making the videos is another part of the entertainment job which compensates for the hardships an artiste must endure sometimes.
Mid last year Singh worked with D' Hitman and other artistes on a music video. The set up, she said, is very professional and there is lots of talent involved on every level. "The technical talents we have working with us to create our music and the videos are really amazing," Singh said. "Chutney and the music industry in the whole have really transformed with technology."
Meanwhile, prior to the Chutney competition, Dubraj had spoken with The Scene. Dubraj, who has been on the Chutney scene for more than a decade, believes that chutney should remain the blend of Hindi and English like it was in the beginning.
It is sad, Dubraj said, that modern Chutney uses less of the blend and leans more towards the Caribbean English Creole. The lyrics in many modern songs, he said, lack meaning.
But Singh disagrees. While some of her songs are a blend, Singh said, it is important that the genre be allowed to evolve naturally. "Everything changes but we expect the changes to enhance and not take away from [what is already there]…if the change is good then we should keep it and develop it," she said. (srh.midnight@gmail.com)
Comments

Can exuberance look graceful in a ballet performance? Yes. And Isaiah Luther is the man who makes it happen.

Today, from 4.30 pm, the Indian Cultural Centre will screen the film Chandni, starring Sridevi Kapoor, Rishi Kapoor and Vinod Khanna.

Last Saturday evening saw the sashing of eight of the nine gorgeous contestants vying for the Miss Earth Guyana crown at the Aracari Hotel and Resort.
Come tomorrow evening the National Park will come alive when what is described as Guyana's biggest car and bike show—Nik Shine Ride—kicks off and the finest and shiniest working old and new car, minibus and SUV face off for over $1 million in cash and prizes.

When Yohlanda Kerr won the Guyana Model Search back in 2009, hers was the coveted name and look.