Sonia Noel launched Theatrical Spectacular on Friday last introducing a strong line-up of performers and designers for the upcoming production which she boasts is "quality stuff".
The launch was to introduce the cast to the public and to stir up interest in the show which is set for the National Cultural Centre (NCC) on April 8 and 9.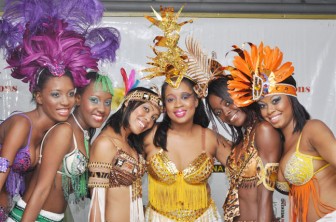 Sonia in a brief address commented on the experience, "I have been in theatre for years but being project manager on this production was a new and exciting journey… I love it". She also commented on the arts in Guyana saying that it still lacks critical support and due respect.
But Sonia also expressed hope that someday Guyanese will embrace the arts and treat it respectfully, according to a press statement. The statement gave a recap of the night and referred to solid performances from the Crystallite Dancers and a cover of Bob Marley's "Redemption Song" by a line-up of solid local singers.
The Bob Marley number was choreographed by vocalist, Russell Lancaster. In addition, a fashion display celebrating the 60s was well received by designer, Paul Burnett.
Theatrical Spectacular will tell a story of fashion through dance, drama and music. Tickets for the show are available at the NCC; Nigel's Super-market; Kings Jewellery World and Silhouettes at Barr Street, Kitty.
Around the Web