CULLY, Switzerland (Reuters) – American jazz bassist and singer Esperanza Spalding showcased her Grammy-winning talent for enthusiastic Swiss jazz lovers at the start of a European tour that will also take her to Italy, France, Britain and Spain.
Spalding was the surprise winner of the best new artist Grammy in February, beating favored Canadian contenders Drake and teenage sensation Justin Bieber. She was the first jazz artist to clinch the coveted prize.
The 26-year-old and her Chamber Music Society band played a 90-minute set at the annual Cully jazz festival on Wednesday night, where a sold-out crowd was enraptured.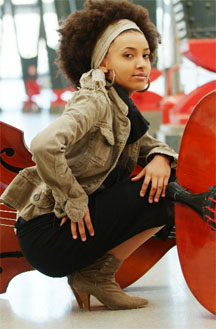 The Wayne Shorter Quartet and Gilberto Gil also performed at the 29th edition this week in the picturesque village that lies among terraced vineyards, along Lake Geneva near Lausanne.
Spalding highlighted tracks from her third and latest album 'Chamber Music Society' (2010), including "Little Fly," the crowd-pleasing ballad "Apple Blossom," and "Really Very Small."
The Portland, Oregon native arrived on stage and sat in the dark to the side in a large armchair, sipping red wine, as her six musicians played an instrumental introduction.
She then took off her jacket and picked up her bass to play "Little Fly." The set was bathed in red light for "Knowledge of Good + Evil."
Spalding, a composer whose phrasing and lyrics are unusual, is part Hispanic, African-American, and Native American. She sang mainly in English, but also Spanish and Brazilian-flavoured Portuguese ("Inutil Paisagem" or "Useless Landscape").
"We are the Chamber Music Society. Merci beaucoup," she cooed into the microphone at the end of the program.
As midnight struck — and with Swiss precision — she then returned for a solo encore of jazz standard "Midnight Sun," a composition by Lionel Hampton made famous by Ella Fitzgerald.
Comments

GEMS Theatre Productions presents a new half an hour sitcom "Days Like Dese," a family-oriented comedy that surrounds the Rupauls, a middle-class Guyanese family.

Just three weeks short of the staging of the Miss Guyana Renaissance pageant, twelve ladies are kept busy perfecting dance routines, walk and speeches.

Twenty-year-old Keisha Brazh under the African name 'Serwah Mawusia,' is representing Ghana.

Put to task at the age of just ten to help to create the family's Christmas cake propelled Rabina Shivraj into a world of baking and decoration and today she has learnt the art of hooking her customers, first with her creativity and secondly with the taste of her creations.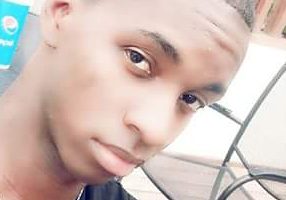 By Joanna Dhanraj With August fast approaching, the contestants of the Mr and Miss Guyana African Roots 2017 pageant are busy perfecting their skills for their big nights.