By Abigail Semple
You might have thought you've seen it all in the world of fashion designing, but if you haven't seen Pamela Fox's collection, then, as the saying goes: 'you haven't seen anything yet'; it's full of sassy pieces in exotic colours, and made from the choicest fabrics.
This week The Scene caught up with the local designer. Sitting in her office at King Street, Pamela spoke extensively on how her gift was first manifested and how it evolved to what it is today.
Pamela lived in the North West District, up to the age of 12 with her mother, a seamstress and her father, a businessman. During that time in her life, she "experienced all sorts of arts and crafts". She said when she was about five or six years old she would go into the trenches and dig up mud and make little saucers and cups out of it for her dolls.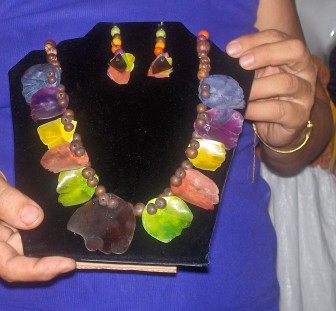 "I used to go in the valleys of my father's plantation and pick up the bricks, the soft rocks, and I used to mash them and dye the straw for my mother… Also I loved to catch the beautiful butterflies, just to have the colour. And under the avocado trees I used to pick up the leaves, it used to be like a beautiful cutwork lace… All those things I would pick up and collect, and I wish I had my collection right now," she said.
"Looking back at that time I didn't know it but now I know that was in me."
Pamela's gift with sewing came from her mother, who used to sew. "All of our dresses were puff sleeved. She even made our bloomers [underwear] with puffs at the knees."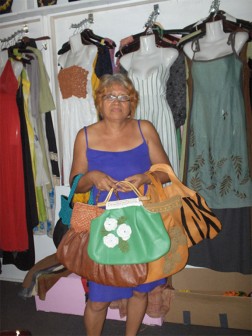 Pamela would make off-the-shoulder dresses, which, she slyly divulged, she only wore when in the presence of her mother, but quickly changed back into the modest puff sleeves when she heard her father coming.
Her father, who owned a dry goods store, quickly saw her talent and encouraged her to make little dresses to be sold in the store. Pamela said they sold a fabric called "fugee", which is 100% cotton, and this was what she used to make her first "professional" line of clothing around the age of ten.
Business was booming for the young entrepreneur and her father when she left the North West at the age of 12 to attend the St Joseph High School. In Georgetown she lived with her second eldest sister, another talented artist who hand painted skirts. "She actually used to paint on the flare skirts. She used to get black, black taffeta skirts, and she used to paint Elvis Presley, trumping his guitar, Elvis Presley's head… all around the skirt, and she would sell them among her friends," Pamela recalled.
Pamela soon began crocheting and wearing her pieces for her school friends to see and was soon asked by a friend to crochet a jacket identical to hers, which they wore to a costume party.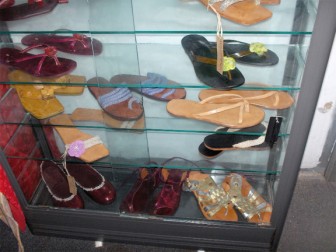 Pamela soon migrated to the United States with her boyfriend (now husband), and while he went to Howard University, she worked at a subsidiary for the National Education Association (NEA), where they leased cars to teachers across the state. However, she also continued sewing, which assisted in their survival and kept her busy when not at work. With a child on the way, Pamela also sewed maternity clothing for herself — one for each day of the week — which she wore to work. Apart from sewing she also continued crocheting for herself and workmates.
Her husband wanted to return home and they came back to Guyana in the early 70s. Pamela soon found a new niche teaching craft to housewives at the home of Mrs Kibble, the wife of an American Diplomat.
"I taught them to crochet, to macramé, to cross-stitch…," she said. This craft school of sorts was soon to have an exhibition, where the main audience consisted of diplomat's wives. There, "I overheard one of the diplomats' wives saying that she had travelled, she had been to many exhibitions all over the world and she had never seen one like that."
Mrs Kibble then wanted to open an emporium where the housewives could sell their craft, but Pamela had ideas of her own. She was about to launch her business, which she successfully set up at Oronoque Street.
However, disenchanted with the politics in Guyana, Pamela and her husband left Guyana in the late 70s. They returned to the US but not for long; Barbados beckoned and the Foxes moved there, staying for 17 years. During that time Pamela opened a boutique and "sold to many, many clients from all over the world", who sent her "little thank-you notes" stating their satisfaction. Soon the business grew and they were able to open a factory, where they operated over 50 machines. It was at this factory that Foxy Jeans were born. These jeans were in high demand and were produced in different colours, and were sold by the thousands to a store called Numbers, in Trinidad.
However, as fate would have it, Pamela fell ill as a result of over exhaustion. During 1983 or 85, they returned to Guyana and her husband started refurbishing a "very derelict building" (which they currently occupy in King Street). Pamela began her trade at Sewing World and travelled back and forth from Guyana to Barbados to sell her products. After a "bad experience", where Bajan customs officers seized her entire shipment, Pamela gave up the trading aspect.
Despite never having had a good Guyanese clientele, as a result of people not knowing about her, the multitalented designer said that she sewed for Miss Guyana delegates. However, most of her success occurred around 2003, when, after falling ill again, she returned to New York to live with her daughter for four years. During these years, she, along with her daughter —a designer as well— owned a boutique called Pamela Fox Classics on 8th Ave in New York. They produced and sold products to a ritzy boutique called Z-Baby, whose clientele included celebrities like Guy Richie and Madonna.
With pride in her voice and the labels displayed as proof, Pam explained that most of her materials come from cutting rooms like Ralph Lauren and other famous designers, so her clients can be sure they are getting the best quality products.
Today although she is stationed in Guyana, this designer with "gifted hands" has contracts with designers like Donna Karan, and she also does alterations for an "up market boutique", which she declined to name. Her contract with Donna Karan, she explained is owed to her messenger named Tony, who designs products for persons like Vera Wang and Mary Kate and Ashley.
Apart from clothing, scarves and hats, Pamela also designs footwear, handbags, belts, and jewellery. She designs clothing for persons of all ages, genders and sizes, and her materials comprise various types of all natural fabric: silk, cotton, wool, lace, snake skin, leather, fish scales, and seeds imported from India. The now beautifully aging woman smilingly stated, "When you get a garment from Pamela Fox Classics, you can bet your bottom dollar it's the top of the line."
The only difficulty she has is finding suitably qualified persons to employ. At present, she has five employees at her King Street Store.
She thinks that there needs to be courses offered in Guyana like those she did abroad. In addition to her designing, Pamela has also taught jewellery making in New York. She is currently planning a fashion show with other designers from Trinidad and Tobago, at the National Cultural Centre. (abishort.24@yahoo.com)
Around the Web