The Quest for the new Miss Guyana Universe is on again, and applicants are being invited to take the stage to compete for the winning crown some time in July.
According to franchise holder Odinga Lumumba, eligible persons are required to be of Guyanese nationality, not older than 26 years by May, at least 5'7", and well-rounded individuals: "pretty and intelligent". To enter, applicants must fill out a form, which can be downloaded from the website www.missguyanauniverse.com.
This year the committee is expecting to have 10 – 12 contestants on stage, and the winner will represent Guyana at the Miss Universe Pageant to be held in São Paulo, Brazil on September 12.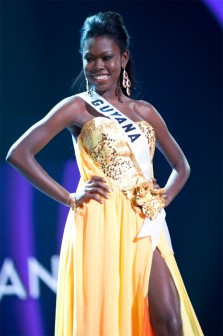 The queen for this year's pageant will also be walking away with $2.5 million in cash and kind, including "three pulsating weeks in Brazil", and a separate prize of one week's stay at the Jamaica Pegasus. The committee is also offering to the winner US$20,000, if she places in the top ten at the international pageant.
Last year 22-year-old Tamika Henry was crowned Miss Guyana Universe and she represented her country at the international segment held in Las Vegas, Nevada. Crystal Benn was the first runner-up, while the second, third and fourth runners-
Around the Web