Tonight, local gospel group Cross Carriers (CC) will present 'The God Experience: New generation, fresh sound' with the promise that it is more than "just another concert".
It's a celebratory event, coming one year after the trio of Samuel Medas, Rochelle Maxius and Allan Petty produced their first album 'RePresent Him' as the group Cross Carriers.  But the event isn't one built around "hype and excitement".
Leader of the group, Medas, in a release said, "We (Cross Carriers) want young people to encounter God and make Him real to them… for them to experience God and all that He gives, whatever these people need, whether it be love, healing, joy, comfort, hope, forgiveness, etc, all through music. It will be a night where the hunger for something fresh and real can be fed."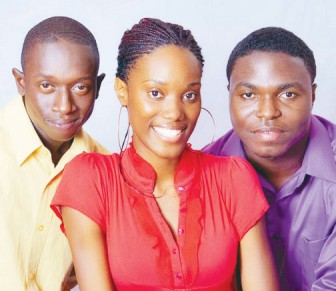 The event is set for the St Joseph High School auditorium and kicks off at 6 pm. Tickets cost $1,000 and are available from Upscale Restaurant and Sports Bar, American Exchange Barbershop, Twistaz Digital Audio CD/DVD Shop Stelling and Giftland OfficeMax.
Among those who are expected to be sharing the stage with CC are:  Trenacia Esseboom, Julian Bynoe, Ocie Thomas, Rene Winter, Ryan Hoppie, Sean Sobers, Subreina Castello, Yohan Jackman, Trevor Smith, Tiffany Vasquez, Jarienn James, Redeemers Band from Linden, Christina Richardson from Berbice, Rachel 'G-Girl' Stackel from Suriname, Kazia Watson (mime), Chrisma Dance Group and Purpose Driven Dancers.
Around the Web