From the moment Papa San stepped on to the National Park's stage on Saturday, he had the crowd fully behind him. By the time he sang his last song more than 90 minutes later, the Jamaican reggae-gospel artiste had more than sealed the deal.
Papa San delivered a stellar performance and left his mark on Saturday's proceedings, the way a headlining act is expected to. He took control of proceedings and kept the crowd, which filled less than half of the National Park tarmac, truly entertained.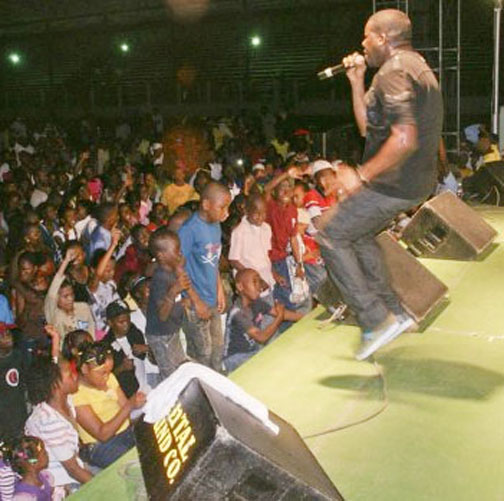 A popular dancehall singer back in the 1980s and 90s, Papa San converted to Christianity in 1997 and has been singing gospel since. During his days as a secular artiste he was known for producing rapid lyrics and produced such hits as "Strange Things are Happening," "Maddy Maddy", and "I Will Survive". He has aged since then but on Saturday night Papa San demonstrated that he is still an energetic performer and a skilled lyricist. Every so often he would string together a few rhymes that would send the crowd wild.
But if there is one thing that stands out about Papa San, it is his stage presence.  From the time he appeared at about 11:20 pm he was able to transfer his energy to the already keen audience. In next to no time, large sections of the audience were singing, jumping, dancing, screaming and waving.
From then on Papa San sang hit song after hit song from his four albums but showed a bias towards his first two gospel albums: 'Victory' and 'God and I'. His older songs "Hail Him Up", "Road to Travel", "Touch from You", "Pop Style", "Step Pon Di Enemy", "God and I" proved to be crowd favourites. He also performed hits such as "Hell Bruk Loose", "Higher Heights" and "Shining Star" from his most recent release 'Higher Heights'. He also sang a few of the songs scheduled to be on his next album 'My Story', including one named "Step Away". Papa San said he is considering returning to Guyana soon to launch this album.
It wasn't all out energy and entertainment though, and Papa San demonstrated why he is a complete gospel artiste. There were several times during his performance when he took time to encourage and to communicate his love for his God. His seamless transition from the loud, high energy moments to these poignant ones indicated that this was an artiste who knew what he was about.
When he exited the stage at about 1 am on Sunday, Papa San had made up for what could at best be described as a solid but overall unspectacular performance by some of the local gospel artistes and groups.
Nevertheless, Joshua Joe from Bartica and the Linden male trio Redeemer produced strong displays which indicated that they are ready to take the local gospel industry by storm.
But this was Papa San's concert and he stole the show.
Around the Web