The Wotless Show, held near the Kingston seawall on Monday night saw a huge turnout of a hyped-up crowd, eager to see Trinidadian artiste Kes do his thing onstage. And the entertainer did not disappoint, as the show was smoking hot, despite its late start.
Before the soca sensation hit the stage for his invigorating performance, The Scene had a little chit chat with him.
The Scene: Why the name 'Kes'?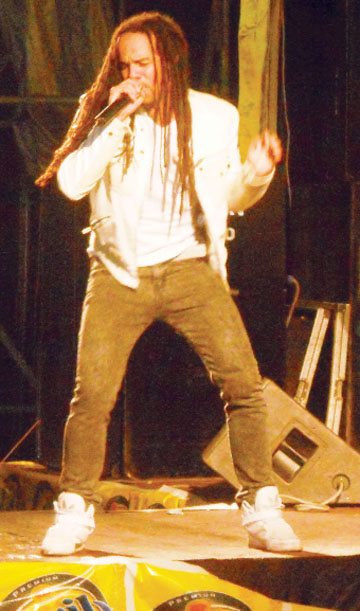 Kes: Well, my real name is Kees which is Dutch, and I was in a band before now, and we decided to use 'Kes' as my entertainment name and it stuck when I went solo.
The Scene: Why Wotless?
Kes: Well it's carnival time and the word is a Caribbean expression which has different shades and meanings. Some people think of it as a negative term but my wotless is not your wotless…
The Scene: This is your second time in Guyana, how do you find this country so far?
Kes: I love Guyana. What I love mostly about Guyana is that it's green; I like the fact that they have preserved so many of their forests and natural resources. And I also love the people. And the people are kind, warm, and vital, I love their hospitality.
The Scene: What would be your advice to youth of Guyana and those aspiring to become entertainers?
Kes: I would say stick to it. It's not an easy road, but believe in yourself and don't give up.
The Scene: What do you have to say about domestic violence?
Kes: A lot of problems relating to that come from a lack of communication, whether it's between husband and wife, parents and children, government and people, etc. I think that we need to open up more; swallow our pride and communicate, and this will help curb domestic violence.
The Scene: And what is your take on Facebook, Twitter, and other social networks, which it appears are now being overused and abused by young people?
Kes: Well, for every generation there is a temptation, and these social networks are ours for this generation. They have their negatives as well as their positives, and I think that it depends on how we use these networks, the amount of restrictions that are available in the homes pertaining to them; it's all about a balance.
While Kes was having his media moment and his dancers were doing some warm up stretches before the main highlight, the Guyanese crowd was being entertained by Shelly-G, who really took the Wotless term to a literal level with her racy songs like "It's just a text, we're not having sex", "Fishy fishy", and "Touch me right hay", along with lyrics from Jamaican artiste Lisa Hype and other dancehall songs. She was followed by Mahendra Ramkellewan, who opened his performance with his signature "Dem ah watch meh", after which he warmed the stage for Adesh Samaroo by singing some of the Trinidadian artiste's hit songs. Samaroo, who appeared to have had a few drinks too many before getting onstage, entertained the crowd well by interacting with them and by singing a tell-tale song about "Going for cane", which had them roaring.
The adrenaline was already pumping, and the crowd went wild, as Kes and his dancers finally made their long awaited appearance onstage. While the dancers displayed their flexibility and dance skills, the Caribbean sensation had the ladies going wild for him. At the beckoning of some, he made his way offstage and close to the barricades, giving them a chance to touch and grab at him. A few minutes before he completed his performance of "Big Ting, Small Ting" the artiste even called onstage four Guyanese women and he gave each of them a chance to show him what Guyanese women are made of. They did not disappoint, as the 'big girl', to many of the females' delight, caused the hot looking singing sensation to take off his shirt.
It can be said that the Ansa Mcal sponsored show gave patrons their money's worth, and they got what they were expecting; a "Wotless" time.
Around the Web