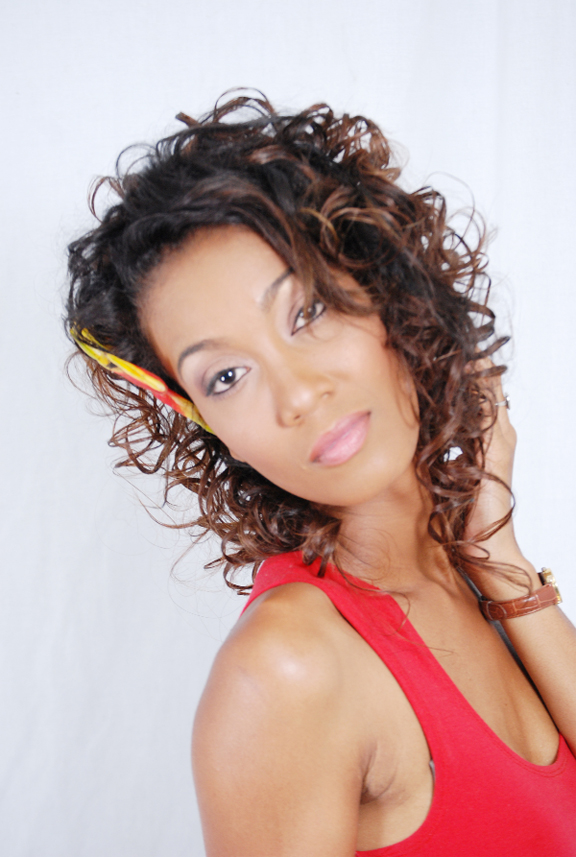 Twenty-three-year-old Kara Lord is now Miss Guyana Universe 2011, and as an ambassador for her country, will be competing on the international stage in Sao Paulo, Brazil in September. We met face to face with the aspiring psychologist to get a little more insight into her life; to see what motivates her, and to find out what her plan is for representing Guyana.
Born on March 24, 1988, Kara describes her childhood days as full of fun and adventure. Being the only girl for her parents, she lived the tomboy life; running around with her four brothers and male cousins, receiving lots of scrapes and bruises. "I had this way about me. Every time I would run I would fall and get lots of bruises and every time they would start healing I would go running and fall again, and I would hit that same spot that was healing. I have a high tolerance for pain," she said. This Kara says is what drives her to achieve what she wants.
The loquacious young woman attended St Gabriel's Nursery and Primary schools, St Joseph High School, and the University of the West Indies (UWI). Her parents always stressed the need for education and always "spoiled [her]" education-wise. Whatever I needed, as long as it had to do with school and education, my parents went and got it for me, and they supported my decision in going to UWI to study psychology 100%."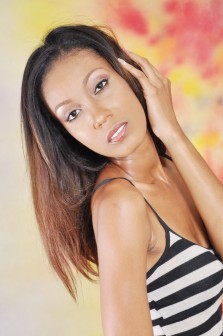 Winning this pageant, Kara said, is like a dream come true in a sense, as even before she'd entered she had it on her agenda; "I have a journal in which I write all of my goals [long term and short term] and one of these goals was to enter a pageant, while another was to gain the top position in an individual competition." She said also that one of her goals is to travel around the world, and one of the countries of the world she has written down is Brazil. Therefore she has succeeded in achieving three goals form one memorable occasion; talk about killing [not two but] three birds with one stone.
So, having achieved the goal of "winning an individual competition", does she plan on stopping or taking things a little bit further? The latter she states, as she doesn't only want to be a part of the upcoming Miss Universe Pageant, but to "place [among the top 15 at least] and to be a strong representative for Guyana". She says that she's well aware that the judges there will not only be looking at intelligence but also at all other areas of a woman taking part in such a contest, such as sex appeal and beauty.
"Every year Guyana goes up and it's always disappointing to me for [Guyana] not to be called [among the tops]. I know that I will do it as best as I can," she firmly stated.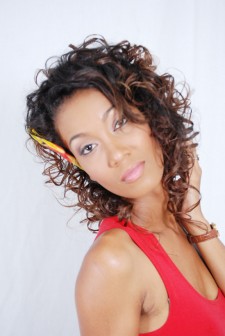 Speaking on the harsh comments circulating on Facebook about her after having won the contest, Kara says that she was not shocked and didn't feel bad about them, as she always tries to look at the positive in people. One of the comments she stated, was that "I may have a little intelligence, but I will never be a beauty queen. But I said to myself I already am, even before I won and in the minds of those who know me I am a queen." According to her, she does not take offence to any of the comments but "I honestly wish that Guyanese (local and abroad) would at least listen to the message that I gave in my final answer [during the pageant]. The reason we're not as successful as we would like to be in the international community is because of our division. At the end of the day I'm still going to be representing Guyana and what I need is support from the entire Guyanese family. We need to be able to come together as one and unite."
Kara added that one of the problems we have in Guyana is that "every time we send a queen [to represent on the international stage] we always try to discourage that person, say such bad things", and this she feels is the reason why we don't place among the top 15. "For me I know that I'm not going to let it get to me, because I still will be representing Guyana and I still want to do my best for this country and its people […] I just really wish they would just unite and support," she stressed, getting a little emotional. She concluded with a quote from a friend of her which she always tries to pay heed to; "the sweetest revenge is success".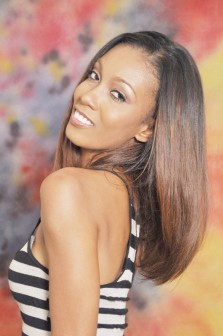 On pageant night, Kara recalled, during the final question segment, she only heard Roshini Boodhoo's response, and when she went backstage after givi8ng hers, she enquired of the others their responses, but the only person she didn't hear from was Madonna Ghanie. "She was the only one who didn't tell me what she'd said," so she was still clueless as to the final decision. As the time came for the life-changing decision, "when I was onstage I remember being very nervous and looking at Madonna helped to keep me calm. I knew that everyone wanted her to win, so I was surprised when I heard them call my name."
Kara related that after the initial shock and after the reality of what had transpired sunk in a little, her mind played Nicki Minaj's "I wish that I can have this moment for life", more specifically the verse that said "in this very moment I'm King [for her, 'queen']. Overall, she said that it was a very beautiful moment for her and she immediately started grooming and encouraging herself on the task ahead of representing Guyana in Brazil. "It still hasn't sunk in though. To me it's just surreal…"
Describing herself as a very hardworking woman who likes to be kept busy, Kara says she's thrilled at the hassle in getting her prepared for the international pageant, because she always has something to do.
Apart from the pageant, Kara's ultimate goal is to achieve her Masters in Psychology, and in this light she revealed that last year she'd received acceptance into two universities in London, but as funding wasn't in order for her, so she deferred for a while. "I was hoping to start in September, but because of funding again and now the pageant [which she feels is a great responsibility] she will again be deferring.
"I want to be able to do that early, but I want to focus all my energy on being a good representative/ambassador in Sao Paulo as well as during my year of reign. I'm also hoping that by then I will be able to get funding/ a scholarship to go study," she said. Who knows? Perhaps if she worked hard enough and gave it her all, she might be able to make in into the top 15, thus earning the prize promised by Franchise Holder Odinga Lumumba, and this will help her to make a start on her Masters in Psychology. So for now, Kara has a mission.
The Miss Guyana Universe expressed thanks to God, who she strongly feels had a hand in her gaining her current position; her parents, who always have and still are backing her 100%; her aunts; brothers, who are so excited about their sister's success; her friends, all of whom encouraged her; her sponsor Compustruct Engineering, who believed in her enough to put their money on her winning; her mom's friend Barbara; her designer Sydney Francois, "I don't think there's anybody who believed in me more than he did"; her stylist/makeup artist Megan from Monifa's; Deryck Moore, who she sees as a second father; Lumumba; her colleague Tiffany Dejesus, who encouraged her to enter the pageant, as well as all her other supporters.
Her final thoughts are "I'm like a sponge who doesn't give out much. I take it [advice and criticism] in and the only thing I throw away is what I don't think that I can use". (abishort.24@yahoo.com)
Around the Web