Seistra Allen
This Guyana-born beauty will celebrate her 18th birthday one day before the pageant. Born Seistra Thremiel Allen on July 29, 1993, migrated to Barbados at
age 11.
In 2010, Siestra represented Guyana at the Miss Teen Universal Pageant where she copped the best costume and first runner-up prizes and was recognized as the first Guyanese to ever place in the existence of the pageant. She then went forward as a runway model and was recently hand-chosen by celebrity hairstylist, Karl J from Los Angeles, to lead a section as his International Hair Show.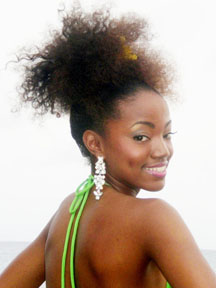 Seistra plans to pursue an Associate Degree in Theatre Arts at the Barbados Community College  since she aspires holding a starring role in a day time television soap opera and also hopes to one day be the face of Cover Girl cosmetics.
Passionate about stamping out the abuse of children, Siestra launched the Unite for Children Campaign with Caribbean award winning fashion designer Andrew Harris and Gospel Artiste Trenacia Esseboom. Through this campaign, they promote the 'Speak Out' method by educating children on the different forms of abuse.
Not surprisingly, Siestra's platform is 'Changing the Role of Teenage Girls'.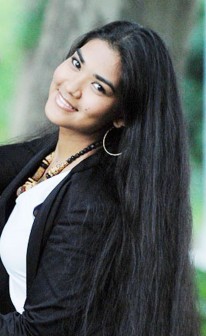 Arti Cameron
Arti Angelita Cameron considers herself a world citizen after living in three countries – Guyana, Jamaica and the United States of America. This beauty will base her focus at the years Miss Guyana World Pageant on 'Women's Empowerment and Access to Equal Opportunities as a response to Violence Against Women'.
This 22-year-old is pursuing a career in medicine. She has recently completed her Bachelor's degree in Arts and Sciences, majoring in Biology with a minor in Chemistry and is preparing to take the Medical College Admission Test (MCAT), a requirement for admission into medical school in the United States.
Arti, a former Miss St Joseph High School Junior Queen, has had extensive modelling experience. She has worked with Sonia Noel and Vonda Gaspar.
Arti considers herself a 'self-appointed' ambassador for Guyana and says the title of Miss Guyana World 2011 would not only be a lifetime honour; it would also empower her to better represent and serve her country.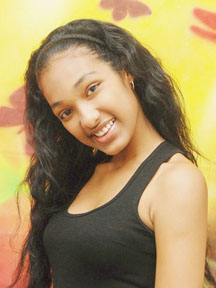 Shanessa James
Shanessa Miranda James, born on February 7, 1994, is the youngest contestant in the Miss Guyana World Pageant. Her platform is 'Empowering women on HIV and AIDS'.
With this being her first experience, Shanessa is eager and willing to learn more during the experience and also to learn the attributes to be successful at this new adventure.
She is an aspiring lawyer and is currently pursuing a diploma in Communications at the University of Guyana.
She describes herself to be creative and enjoys touring, modelling, playing hockey, reading and singing, which she has been practicing being a member of the Marigold Choir.
Shanessa also has a great love for children and as a result, the desire to counsel youths about the importance of education which she believes is the key to success.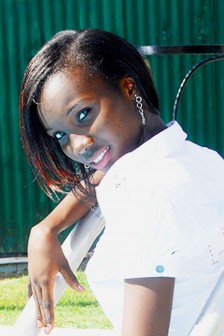 Ruquayyah Boyer
Twenty-one-year-old Ruquayyah Boyar was born in Suriname to a Guyanese mother and a Surinamese father and spent her first two years of life there before moving to Canada where she spent the next five years. Ruquayyah currently resides in Guyana.
A second year International Relations student at the University of Guyana, Ruquayyah's goal is a career in political sciences and law, preferably within the United Nations framework.
Ruquayyah has had some experience in the world of fashion and pageantry. She participated in the Miss Guyana Talented Teen pageant, went on to represent Guyana at the Miss Teen Universal and then won Miss Linden Town Week 2010.
Ruquayyah has modelled for Guyana Fashion Weekend, Roger Gary and was part of the Miss Guyana Earth Pageant.
She has also acted in a local film, Ole House Pun Ole House Part 2, filmed in Linden.
An avid sportswoman and fitness fan, she has a background in track and field and swimming; loves nature, writing spoken word poetry and music, theatrical arts, photography, dance, singing and also scrap booking.
Her platform is 'The journey from homemaker to CEO'.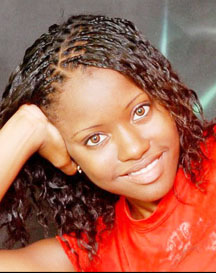 Utieka John
Born on the May 18, 1991, Utieka is no stranger to pageantry. She was crowned Junior Queen in the Miss St Joseph Pageant in 2006, participated in the Miss Mocha Beauty and Intelligence Pageant and the Miss East Bank Demerara Beauty Pageant in 2007.
She is currently pursuing studies at the University of Guyana and aspires to become an Attorney-at-Law.
Utieka enjoys meeting and interacting with new people and says that if she is chosen to represent Guyana, she would value the privilege of being able to see the world through different cultures.
She enjoys singing, dancing, modelling, meeting interesting people, reading romance novels, listening to music and hanging out with her friends.
She possesses "a strong determination to distinguish myself from the ordinary and become a catalyst for change".
Her platform at this year's Miss Guyana World Pageant is 'Women and Education'.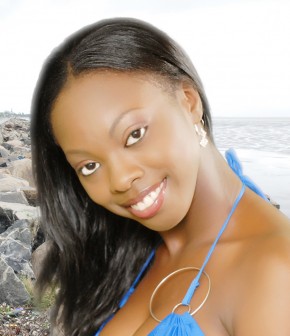 Soyini Fraser
Soyini Asanti Fraser has chosen 'Empowering Guyanese Women through Spirituality' as her platform.
Born on May 8, 1990, she describes herself as a spirited dancer, an aspiring Christian child psychologist, role model and a true Guyanese.
Crowned Miss Guyana Earth in 2010, she went on to represent this country at the Miss Earth pageant in Vietnam.
Soyini has been an active athlete in both track and field events and is currently in her fourth and final year at the Life Christian University here in Guyana reading for a bachelor's degree in Theology. Upon the conclusion of this degree programme, she plans to study Christian Psychology.
Soyini embraces leisure in chatting on the internet, taking long walks and reading horror, suspense and love novels. Her favourite past times also include hanging out with family and friends and spending quality time with animals, orphans and/or children faced with adversities.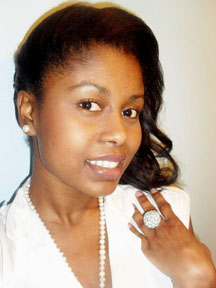 Celeste Dolphin
Celeste Angelique Dolphin was born on the September 14, 1988 and spent the first 10 years of her life in Guyana before moving to Australia with her family when her cricketer/coach father was offered a job there.
Celeste has completed a Bachelor of Social Science (Youth Work) and is pursuing a Masters Degree in Counselling at Monash University in Australia. She works as a commissioned Children and Families Minister.
In the future, she plans to have her own counselling businesses in Guyana and Australia, open her own dancing studio, become a part time Broadway performer and in her late 20s get married and start a family. She hopes to have many children.
Her interests include psychology, mental health, Caribbean history, forensic science, criminology, health and human development, fashion and music. She enjoys shopping, laughing, meditating, being in the company of friends and family, playing the violin, dancing, singing, sewing, writing poems, songs, stories and organising events.
Her platform is 'Empowering Guyanese Women affected by mental illnesses'. Her goal is to put Guyana on the map and winning this pageant will help her to do so.
Around the Web