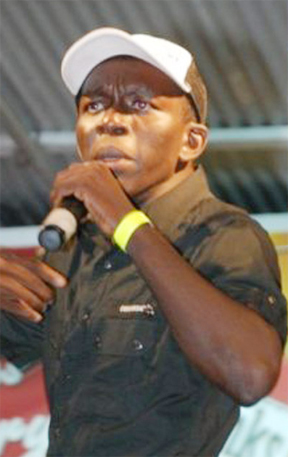 Jamzone Summer Break is just around the corner, and among the main highlights Guyanese will be treated to is a mega-concert in which Jamaican artistes Vybz Kartel and Mavado will be the centre of attraction. Along with them, local artiste Jory Hector will have the challenge of "bringing it" Guyanese style. This week The Scene caught up with the dancehall/soca artiste for a little getting-to-know-Jory.
Born in Georgetown on March 28, 1982, Jory grew up in West Coast Berbice until he was 15 years old. Upon his return to the city, where he attended secondary school, the artiste got his first musical experience. Jory explained that he started "dealing with music" through "clashing" in the streets and in school. His love for music led him at the age of 17 to "stay away from classes and go and clash in different school and eventually ah start to control de whole town in terms of music".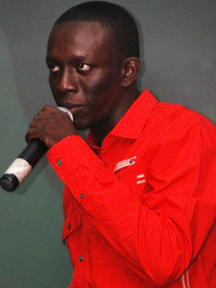 He explained that he and his fellow rivals performed dancehall genre; songs by Beenie Man, Bounty Killer, Ninja Man, and other Jamaicans which he now describes as "old type of music". From there, Jory explained that he evolved to writing his own music at the insistence of good friends of his, "cause duh is like karaoke. [They said] you gotta carry it to the original level, start writing you own music".
The very down-to-earth singer said penning his own lyrics made him feel "more comfortable" but it was a rough time for him. "Round them time duh you had Code Red and Adrian [Dutchin] and Jumo and Charmaine Blackman, and couple other of them." He also added that, apart from competing with these "stars" he was faced with financial difficulties in getting his music out. "…cause when you go to studios [they] pushing you around all de time; a man gon tell you $25,000 and when you raise the money they gon tell you $30,000 and duh is how it used to be."
It was Brutal Tracks that came to Jory's rescue during this struggle, and offered to record his music for free. "I link with Brutal Tracks and [they] start giving me free recordings cause they see [my] talent and skills. From Brutal is where I really get to spread meh wings, …more people get to know about me, and then after I go pon several shows [including] Whatz Hott."
Jory used an unfortunate experience he had with the host and producer of that show to pen another song, which he said served as a boost to his musical popularity.
Jory divulged that he went to Jamaica with Brutal Tracks and had a great experience performing in the reggae kingdom. He said he was able to make a connection with the people. "They loved me [and] they loved [my] music," he said, despite the fact that they'd never heard of him or any of his songs before. As such, Jory's songs are now favourites in Jamaica.
After five years Jory ended his association with Brutal Tracks. "Things didn't work out with me and them business-wise," he said and he started dealing with Kerwin Bollers, his current manager, of Hits and Jams (HJ).  Through HJ, Jory was privileged to have his music spread to Caribbean countries like Trinidad, Barbados and Antigua, where, he said, Guyanese and the citizens alike are embracing and supporting him. By the end of this year he should be on tour, since his manager is receiving a barrage of calls from persons for Jory to perform for them. This is his third year with Bollers and Kees, the latter being his producer.
He still visits Brutal studio from time to time to do his "dub plates" and "drops", and he says despite their differences he still very much respects them, "I would never disrespect them, never mind things didn't work out with me and them. What I respect them for knowing that a youth [Jory] from off the street coulda come in their studio and record for free, and they does help other youths so too." He expressed gratitude to Christian Duncan and the other members of Brutal.
When asked if he has any connection with Kross Kolor Records, the 29-year-old said that he's not associated with them, but Bollers pays for his songs to be recorded in that studio.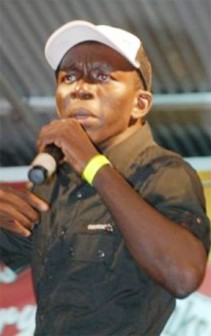 Jory described himself as being a humble, loving, caring and ordinary person, "I'm not this up there type. Even if I get couple billions today, tomorrow, is the same Jory wha you know." He said that as a God-fearing person, he believed that money and vanity "must never take me over, I must never forget where I come from," adding that he doesn't regret his past and is grateful for it, as it helped make him the person he is today.
Though his music caters mostly to young people, Jory said, "big people love [me] too". Apart from dancehall, Jory also attempted to do calypso once, "but them boys tell me I still sounding like dancehall", so he put that behind him. Other genres he does are culture and soca; the latter he
praises as sounding really well. He has recorded "Good Wuk Mek You Man Come Back" and "I Need a Man" [the latter with local talent, Alicia].
Apart from writing, recording and performing music, Jory has also been a fireman for two and a half years, and he also does some promoting of parties and shows mainly in Sophia.
Currently he is working on the "Jory Peace Party", in which he will advocate that persons, especially in Sophia, keep the peace during the impending elections. These parties, Jory said, are his attempt to change Sophia and make it a peaceful zone.
His main target group is the youth, whom he says are very much into too many delinquent activities.
Having written and performed a song for radio in which he urges drivers "Don't Drink and Drive", Jory says he will have to write another pertaining to speeding, loud music and overcrowding of buses. "To be honest, from my heart I tell you, it does be exciting to the youths them; they could go in a bus [and] the girls them could double up, hot music playing and they enjoying themselves and they would ride around for about two hours and so on. But the devil does come in so many different forms that everything that looks nice and feels nice is not always good for you. So what I would advise drivers is to be extremely careful. You gon drink, drive, speed, but it ain't healthy… You can't know that speeding is dangerous and go and speed, because of how you feel."
Five years from now, Jory says, he would like to see his wife bring forth children for him, and, music wise, he sees himself "controlling several other countries apart from Guyana, a wide fan base, more support, more income." He also sees himself in a country where copyright laws are enforced, so that his music will not be pirated and resold.
Jory says he draws inspiration from observing persons and their actions. He says he thrives on and entertains positivity but disdains ignorance and foolhardiness with a passion, and he tries as much as possible to be "in the world but not of the world" as the Holy Bible admonishes.
His advice to youth is to "be yourself and don't deal with how you feel about life. Deal with facts and reality and deal with things that you could profit from in a godly/goodly way." He says that in doing this they will be able to stay away from drugs, crime, prevent contraction of the unwanted and dreadful HIV. He also advises them to be faithful to each other and to give as much love as they would like to receive. (abishort.24@yahoo.com)
Around the Web