Ras Leon Saul's three-act comedy Obeah in Court continues at the National Cultural Centre (NCC) tonight and tomorrow night.
The play, which opened last night, stars Henry Rodney, Colleen Humphrey, Max Massiah, Simone Dowding, Malcol DeFreitas and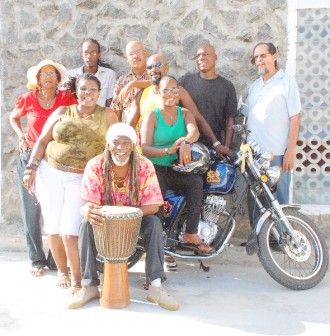 Pat Chanderbhan and includes the Heritage Dancers.
It tells the comedic story of desperate ex-teacher Dorcas Debidin (Dowding), Obonie 'Obeah' Peters (Humphrey) and slick con-man Clement Stanley (Massiah) who decides to run a common bawdy house and earn money as a pimp. He is arrested and charged, but is defended by legal aid lawyer, Sherwin Mathew (Rodney) in a rib-tickling court case.
Saul explained that he was inspired to write this play while surfing the internet when he came across an article in the Stabroek News. It was based on a magistrate presiding in the Providence Magistrates' Court who said that someone was "working obeah on him". Also, around the same time he explained, he saw another article in a Trinidad newspaper which spoke of a man from Moruga who was before the court on a charge of "working obeah" on the magistrate. Another source of inspiration, Saul added, was the legalization of prostitution in Canada while managing a common bawdy house remained illegal.
The play is produced by Carib Feedback Productions in association with International Year for people of African Descent and written and directed by Saul. It starts each night at 8 o'clock and tickets, which cost $1,500, $1,000 and $800 are available exclusively at NCC.
Around the Web