By Bobby Walker
Louann Jackson is immersed in her art. She lives and breathes it. She teaches it. And she enjoys what she does. So much so that even though school has closed for the August holidays, Louann is still teaching art. She is running her 'Different Moves – Artists at Work' holiday workshop for children at the Carifesta Sports Complex.
What The Scene found, was that in order to get to Louann Jackson, it was necessary to go though art.
When you walk up the stairs of the Carifesta Sports Complex, the first thing you notice is a group of teenagers sitting at a long brown table. The table is covered with art pads, red hibiscus flowers taped down, pastels, scattered paint brushes and a few plastic cups filled with muddy coloured water.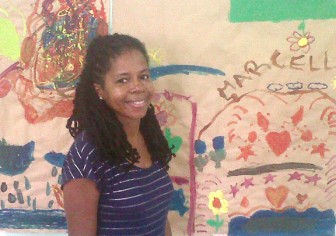 Everyone is hunched over their art pads, attentively working at their drawings and paintings. There is a man circling the table, taking note of their work and every once in a while he leans over a shoulder and makes a suggestion. His name is Kodzo Wilkinson and he is one of the teachers at the holiday workshop.
One child is painting a hibiscus, meticulously. Kodzo says to him "Remember you're using watercolour. You have to be free. Water cannot be controlled". Another girl looks up from her art pad and replies wittily "Unless you're the Avatar." Everyone laughs.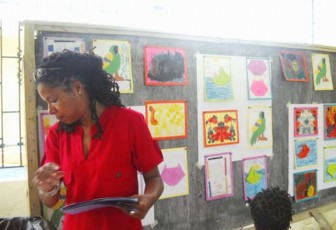 Inside there are little children in bright coloured clothing running around with their hands caked in white clay. There is a long table covered with old newspaper pages. On top of them are little piles of white clay. Some girls are standing up working hard at their sculptures.
One girl is making a cup and another is staring at the mound of clay as if seeking inspiration.
At another table, Louann Jackson, wearing a purple t-shirt and loose jeans, is showing a little girl how to mix the colour for her tie-dye.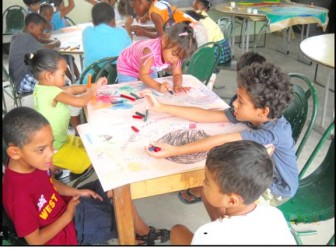 She tells the girl to soak the tied cloth in the dye. "Come back and check on it in a few minutes," she says.
On the same table there are crayons, paint brushes, paints, Popsicle sticks and buckets of modelling clay; a play land for any child who likes to get creative.
The woman sees some children working hard at their drawings and she smiles. She moves the hair out of her face with the back of her messy hand and finally looks up.
Louann or 'Jackson' as she is known by her colleagues, has been practicing art all her life. She had her formal training at the University of Guyana where she studied Fine Arts. Apart from practicing art, Jackson also teaches Art and English at Marian Academy. She is famous for being a fashion designer but says an artist is what she is; fashion designing is but a fraction of it.
This vacation, Louann is carrying out a workshop for children who are interested in art.
In fact, last July, she carried out a pilot episode of the programme. She said it was overwhelming but this year she is back with proper funding and some other teachers to help out at the workshop. The programme is funded by Digicel while the building is being provided by the Ministry of Culture, Youth and Sports. With this deal, Jackson took 20 underprivileged children under her wing and offered to teach them for free. She says that this keeps the children out of trouble and keeps them doing something constructive.
Jackson begins to talk about the programme but she is interrupted by a sulking student who has a clay cup in her hand. The model is rough and untidy. "You can smooth out the edges," she tells the child. The girl pouts and starts to fix the cup, but her head is turned elsewhere so Jackson says to her patiently: "You need to look at what you're doing. That's your work, try your best." The girl straightens up her posture and takes her model back to the other table.
"Yes," Jackson says "As I was saying, the workshop starts at 9 am and goes on until lunch. There are different age groups." Ages 4-6 practice drawing and ages 8-10 practice textiles or sculpting while the older kids, 14-16, practice portraiture and jewellery craft. She carefully stresses that there are many facets to art, not just drawing.
She says that practicing art is great for young people because it stimulates their creativity and helps them to appreciate the little things around them that people normally take for granted. Jackson says that a lot of parents, during the holidays, send their children abroad or to lessons or computer classes. She thinks that people have forgotten about the value of art in their lives. This, she says, is one of the main focuses of the workshop. "Once you are practicing art, you subliminally develop an appreciation for it."
For the older students Jackson goes a bit further. "Some of them might be looking into art as a career path so we use this workshop as an avenue to show them and help them decide what it is that they really want to do."
She and Kodzo are working with the older students to help make them into artists who are talented, employable and marketable.
Asked how the children are doing, Jackson replies with pride "Some of them are starting from scratch but they're all doing really well. They each have their own unique style of working."
Jackson says that with the rise of technology, she is saddened to see how people appreciate art less and less. "We definitely have competition with technology but," she stresses, "that competition motivates us artists to work harder at what we do, to create better pieces and it even helps some artists to enhance their artwork."
A child tugs at the bottom of her shirt and asks if he can go for 'break'. "Sure, go ahead" and the boy runs out the door.
When asked what she hopes will happen after the workshop is over, Jackson says that she hopes there is a continuity of child art. "Ideally, I would like to have a centre where children want to come in the afternoons or on the weekends to do some art instead of going to maths lessons every afternoon. Ideally."
Next Friday is the last day of the workshop. Jackson says they are planning an exhibition so that all the students can have their work on display. This, she says, will instill a sense of pride in the children. "Your artwork is yours. It is your creation. And your art is never wrong.
It is never wrong."
Jackson exudes a sense of content and serenity with her life. It's obvious that she loves to teach and practice art…and she quotes "If you love what you do, you never have to work a day in your life."
Where does Louann Jackson draw her inspiration from?
"Hah!" she laughs.
"Life."
Around the Web