Guyanese Mortimer Softley, better known as Natural Black, is in Guyana for Emancipation Day celebrations, compliments of Guyana Telephone and Telegraph Company (GT&T) and GuyEnterprise.
Booked for 3 shows, Natural Black made his first appearance at Mojo's Night Club on Thursday night. He will perform tomorrow night at the Blue Lagoon Disco, West Coast Demerara and on Monday August 1, the day of the big celebration, at the Victoria Ground.
Chief Executive Officer of GT&T, Yog Mahadeo, explained that it was a norm to collaborate with the African Cultural and Development Association (ACDA) around this time of the year but the company is doing so this year in a different way.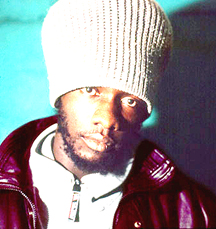 He pointed to the competition, which has been on going for some weeks now where persons can participate by identifying a celebrated hero. The two lucky winners, Mahadeo noted, will be given the opportunity to be photographed with Natural Black, among other things.
The CEO explained that this year they have also invested money in villages, like Victoria, where the concert will be held. "I believe that not enough focus is being placed on our history and those who have turned the soil and enabled us to be where we are today," he said.
Mahadeo added that the company is very proud to be associated with Natural Black.
Natural Black, addressing the media, humbly said that it is a joy to be part of the Emancipation celebration, "it's like finding your roots and Guyana is my roots…this will bring people together and I give thanks to GT&T".
Meanwhile, a GuyEnterprise representative related that GT&T has been the only company so far to recognize this year as the year for people of African descent.
She said that tickets will be available at the venues and the shows in Victoria and on the West Coast Demerara cost $1,000. Also, persons will get $500 refundable in credit once they present their GT&T mobile phone.
Disclosed during this briefing was the intention of GuyEnterprise to host a show at the end of August, called 'The Dora Show'.
"We are proudly bringing Dora and her friends; Diego, Spongebob, Blues Clues and other," the representative disclosed.
There are three shows, slated for August 26 at Rosehall and August 27 and 28 at the Providence Stadium.
Mahadeo pointed out that after GT&T's Cinderella show, children wrote many letters and these children will be offered a 50% discount on tickets purchased for the Dora Show.
Around the Web