Not allowing the fact that they can't hear to hold them back, the Deaf in Guyana (DiG) tonight will showcase their talent through drama and dance at the Theatre Guild.
This year's event, which is sponsored by Scotia Bank, is expected to be one with a difference, because there will be drama on Emancipation and HIV, dance, acrobatics and storytelling by deaf performers from Linden, New Amsterdam and Georgetown.
DiG first made its name two years ago, when it produced 'Talking Hands – Dancing Feet.' The audience which attended that event was enthralled with the 30 deaf performers who were all on stage.  Coordinator of the event, Sabine McIntosh, said that the DiG is a community which is getting more vibrant every year and that it seeks to be acknowledged as a cultural group of talent and increasing capabilities.
"Hands speak louder than words … when you're deaf, your hands, your face and your whole body do the talking, then drama and dance come quite naturally," she told The Scene.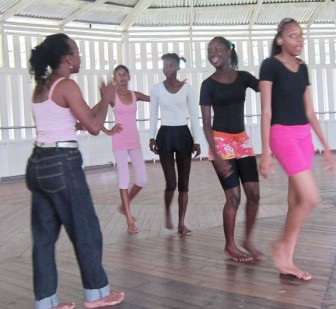 She further disclosed that Willey Conley, Chairperson of the Theater Arts, Department at Gallaudet University, Washington, readily agreed to have one of his students, Daniel Ilaira, do his internship with the DIG committee, and he has assisted them.
The deaf drama student has conducted drama workshops with members of the deaf community in different parts of the country. The outcome of these workshops has formed part of 'Deaf Got Talent,' an annual Theatre Guild event which showcases deaf talents.
Tonight the audience can expect to be entertained with performances by these students coupled with the work done by Walton Williams, Mark Anthony and Mario Gorzira.
The event starts  at 5pm while tickets can be purchased at the affordable price of just $500 from the Theatre Guild.
Around the Web