This week The Scene is giving all jazz lovers and music lovers in general the chance to get to know a little about the Georgetown Jazz Project, the popular jazz band that performs at the Sidewalk Café.
We spoke to band leader Trevor Rogers, who also filled us in on what he referred to as the "highest level of musical performance."
As you would expect Rogers is passionate about jazz and he disclosed that the name for the band came into being a little after he and the other members began performing. In addition to Rogers himself, the initial players were George Reid and Michael Smith, and the initiation of the Project came about at a concert held at the Red House in 2007. There Rogers said they fronted for Seretzi Small, a Jamaican jazz group.
On a regular operational basis, however, the band comprises Rogers on keyboards; Reid on bass; Smith on drums; Desmond Sealey, vocals; Andrew Tyndall on pan; John Campbell on assorted percussion instruments; and at present, Desmond Atwell who plays the alto saxophone. The latter formerly of England has now repatriated to Guyana, and is featured whenever he's available.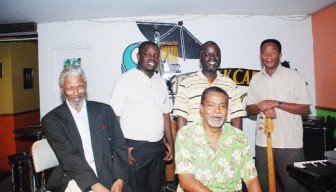 The Project also includes Kurt Noel, who is the sound engineer. Rogers explained that both Campbell and Noel are more on the management side of the band.
The band plays primarily standard and modern jazz and their main audience includes expatriates from various embassies in Guyana, who the leader said enjoy and seek out this type of music. He said that the engagements they are getting so far include dinner parties and certain shows, while adding that the band was recently involved in the Rotary Club of Georgetown's Wine, Jazz and Talk Show, which was held at the Theatre Guild and during which Paul Keens Douglas was the main highlight. There they backed popular jazz artiste Ruth Osman, a Guyanese in Trinidad.
In addition to this, he said, they also performed a lot with Phillip Nelson, Public Relations Officer for the American Embassy and a jazz singer and recording artist.
Nelson, Rogers explained, will soon be posted to Rome so there was a farewell performance for him by the band at the Theatre Guild.
 "We also did a show with him at the Sidewalk Café, and he used to appear with us when we played at the Pegasus," he said.
'Dwindled'
Rogers and his group members are sad that their once regular performance at the Pegasus has now dwindled as the new management no longer wants jazz, "which is very strange because a lot of our fans came from there; diplomats, expatriates from embassies and so on used to frequent there to hear the band play at the poolside."
At first their shows used to be fortnightly, he continued, but then they dwindled to once a month and now not at all: "All they have are these Indian [chutney] bands or some pop band and people are complaining that they can't hear us at the Pegasus any more," adding that it's been two years now since they played there.
However, the Sidewalk Café, (the only jazz club in the country) is the home of the band and as such they make appearances there at least twice a month. Currently they are trying to regularize their performances to the first and last Thursday of each month, their next gig being on August 25 at 9pm: "the admission fee is $1000, but we play for the doors; we don't get paid. We only get paid when we're engaged by the Lions Club or one of the embassies or some association that wants some music."
As a result of not always being paid when they play, and because of lack of advertisement, Rogers says the Project needs all the support it can get from the Guyanese population.
"We're out there needing corporate and promotional sponsorship. As it's jazz and we don't get much sponsorship, we're hoping that corporate Guyana will come onboard and give us more sponsorship for promotions," he said.
'Propagate proper  music'
Rogers told The Scene that the main objective of the Georgetown Jazz Project is to propagate proper music, and Rogers explained that "music is authentic because it comes from the music sheets; written music, so what we play is authentic; we rearrange most of them. We are trained musicians, we read music and this brings us to an international standard." 
This, added to the fact that they are the only jazz band in Guyana, affords the group the pleasure of having played for the British Embassy, for the Israeli Embassy (at their functions in the Savannah Suite of the Pegasus), and for the Lions Club at the Princess Hotel and on various other occasions.  Though they've never performed outside of Guyana, Rogers divulged that there are plans afoot for going abroad, and this trip will most likely take place next year.
"There are many Guyanese that are fans of jazz," the leader said. "Jazz is an internationally renowned music, and it's a matter of playing at a level that requires a certain amount of skill," he explained; "not any and anybody could play jazz. It's a separate study in music."
Rogers went on to say that jazz is the art of improvisation, where "a melody is played and you don't hear that melody any more, but you hear the musician's personal interpretation of that melody. It is at this point in time the highest level of musical performance, apart from classical music, which is just reading exactly what you play with a variety of expressions written down."
Jazz, he says, however, is self expression: "If other musicians learn the art of jazz then they'd become better musicians." In order to spice things up a bit and to display their skills in this art form, the band leader said that they don't play only jazz, but also some pop music ("superior pop, as Basil Hinds used to call it in those days, when he played"). " It is not the run-of-the-mill type of music and it exists in every developed country… In Trinidad even, young people go to school to study jazz… one can even get a PhD in jazz, or a PhD in jazz history." This he says is what is lacking in Guyana, and "so Guyana needs to get with that".
'Exposed to jazz'
The primary target listeners of the Georgetown Jazz Project and jazz on the whole are people who have been exposed to jazz and people who have travelled, as well as the expatiate community, Rogers explained. The latter recognizes it," he said, "and likes to come out and listen to it whenever they know the band is playing, "but it's advertising that is lacking."
Expanding a little more about how the band operates, he divulged that "at the Sidewalk we take vocal songs and play them instrumentally, though we have a lot of vocals."
Added to this he noted that nowadays, the first thing other bands not into jazz do is have a vocal tune – "You don't hear instrumental music. In the days before I played jazz, in the days of string bands in this country there were three sessions of music; the entire first session was instrumental music; the guitarist and saxophonists had to learn to play melodies and then you would have vocals, and then the third set would be Caribbean music like reggae, calypso, etc, to send off the audience. There was even some improvisation during the instrumental session; you still had to know to improvise to some degree. That level of music is what Guyana has fallen short of; you don't play that level of music."
Apart from playing in the band, he also teaches persons who are interested in learning more. Rogers also shares information and books on jazz, "I've invested in a lot of the jazz standards that are written; I have the music for that and I share it as much as possible. When you are able to play jazz then you can be able to improve on your own personal imagination and creativity. When you can improvise, then you can come up with melodies and the proper chords for those melodies, the proper accompaniment and that sort of thing."
He encourages persons out there, "Come and support this type of music, because this type of music is internationally renowned and I reiterate that it's a higher level of musicianship and that's what we need to encourage. Come and support it and I am guaranteeing that you will like what we do, you will enjoy it…The energy that is involved in performing this music is very communicable."
To book the Georgetown Jazz Project, persons can contact Trevor Rogers on 626-1921. (abishort_24@yahoo.com)
Around the Web