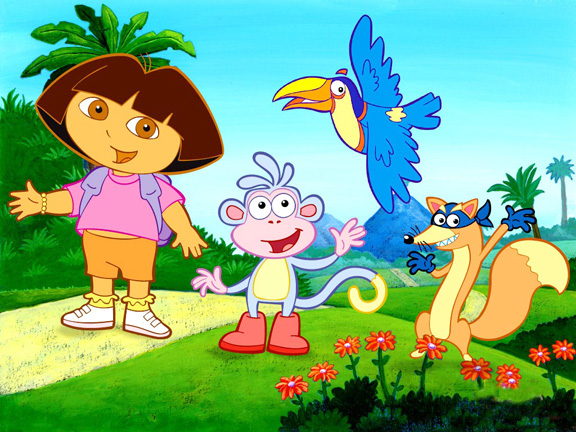 Lovers of the 'Dora Explorer' children's animated television series are in for a treat this week when Link-Up Entertain-ment in collaboration with Guyenterprise and their major corporate partner GT&T host the GT&T Dora Friendship Day which would see Dora and friends, Booths, Swiper, cousin Diego and Blues from 'Blues Clues' team up to thrill the audience in a musical adventure.
The cast, which will include a special appearance by cartoon character Sponge Bob Square Pants, will perform at three shows.
A release from the entertainment group said that Berbicians were expected to get a first taste of the show at the Rose Hall community ground last evening while those in the city and environs will get their opportunity today and tomorrow at the Guyana National Stadium.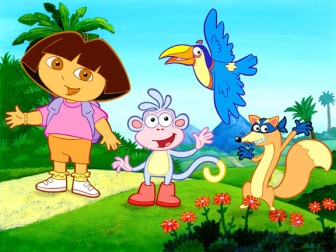 All shows are expected to commence at 3pm with the GT&T grand funfair, and everyone will be able to enjoy activities such as face-painting and tattooing their favou-rite cartoon character; prince and princess makeovers; and balloon animal creations. Fun and games such as Dora treasure dive; rabbit in hole basket toss; and fishing will also be part of the package.
"The children will enjoy the trampoline, bounce castle and shopping in the candy and Dora funland for your delicious munchies and favourite accessories, collection of cartoon characters," the release said.
The event will also include booths from other corporate partners such as Banks DIH/ Demico House, Church's Chicken, and Gizmos & Gadgets.
Dora and friends will take the entire family on the usual musical adventure around the world from 5.30pm sharp, that the organizers promise would be a memorable journey during the intermission. There will be special awards for families' participation, so parents and children are encouraged to memorize favourite lines from the Dora cartoon.
At the show, families will have the opportunity to take photographs with their favourite cartoon characters.
Ticket prices are $1500 for adults, $1000 for children, and VIP price $3000 for children and $5000 for adults.
In 2007 Link Up Entertainment hosted the Sponge Bob show at the Bourda Cricket Ground, and also brought the 'River Bottom' show to Guyana. The entertainment group said that Guyanese can look forward to more family activities.
Around the Web