They are the new budding singers in Guyana, now gaining stardom, and The Whaul Sisters are something to talk about.
The three sisters Lawanda, Ayanna and Akeeda Whaul, ages 18, 17, and15 respectively, began their singing career at the tender ages of 3, 5 and 6.  According to their mother Judeth Whaul, she had two cassettes, which her girls used to listen to; one of Whitney Houston and the other a gospel; "and they would sit on the steps and sing renditions… each sister would try to pitch her voice the highest".
After hearing and recognizing their daughters' talent, Judeth and their father Eric Whaul (who is mostly responsible for their training) decided to enrol them in singing classes at the First Assembly of God Church located on D'Urban Street, where they soon joined the children's choir. With pride evident in her voice at her girls' accomplishment at such a tender age, Judeth added that each of the girls had leading roles in the choir. They also did gospel performances at other local churches.
The Whaul Sisters' first performance as a group was at Talent Fest at the First Assembly of God Church, where they sang Cece Winan's "I Will Be the Rock for You".
Their first performance at the National Cultural Centre was at a gospel production called 'Cry Your Last Tear', and there they performed a song called "On Time God". Their next major performance was at Carifesta X, which was held in Guyana from August 22-31, 2008. This was followed by participation in the National Communications' Network (NCN) Christmas concert and at other events.
Apart from singing and their slow rise to stardom, the girls take serious interest in their education. Lawanda and Akeeda spoke with The Scene on some of these goals and aspirations.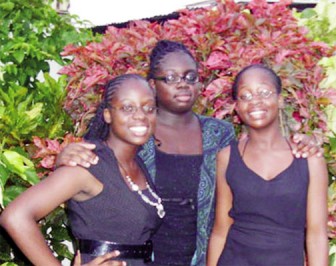 Eighteen-year-old Lawanda is a second-year University of Guyana (UG) Computer Science student, and she is working towards becoming a computer technician. The vivacious young woman added that she is hoping to go into the field of Communications after she would have completed her diploma in Computer Science. Lawanda is also an athlete, and she explained to The Scene that she's represented Guyana in the inter-athletic games. During her years as a St Joseph High School student, the athlete also participated in the Nationals (athletics championships) a few times, where she broke two records in discus throwing. She was also the St Joseph High Sports Girl of the Year in 2009. In her free time, Lawanda enjoys reading, listening to music, singing, and spending time with family; "my cousins, parents and little sister".
Asked about a career in singing, the eldest of the Whaul sisters stated, "Well, in terms of having a talent, you have to use it, so I hope that with the continued support from my mother and my father, we would continue to sing all the time. I haven't looked at singing as a career, but I would go with the flow if need be… as a group."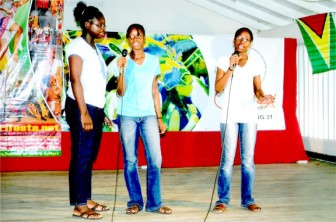 While Lawanda is good at athletics, 15-year-old Akeeda takes pride in and enjoys singing most of the time; "sometimes I sing so much I can annoy people". She explained to The Scene that she has just completed her Caribbean Secondary Examinations Certificate (CSEC), and as she is too young to attend UG, she is currently assisting her mom at the Spicy Dish. Akeeda plans on pursuing studies in Business Management at UG in September, as her main aim is to become a Marketing Manager. She does, however, want to continue in her singing career, and explained that she "want [s] to do something different, like Bob Marley did; mixing his beats; soul and reggae. In the same way I want to create music that is unique; something to stick in your head, but yet you can move to it." Akeeda's other love is art, and she also wants to pursue studies in that field.
Ayanna, the second girl, is also a student at UG, where she is pursuing studies in Accounting.
She enjoys acting, which according to her mother she does a little bit of sometimes, and fashion, and she would like to become a fashion designer.
Ayanna also choreographs some of the dance moves that she and her sisters do onstage during their singing performances.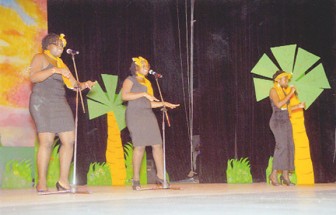 Apart from singing as a group with her two older sisters, Akeeda also at one time took part in the television talent show/competition called Cellink Kids Stage. During the first round, her mother explained, she again sang Cece Winans' "I Will Be the Rock for You," while in the second round she did "I Look to You" by Whitney Houston. Being a die hard fan of Whitney Houston, the young lady during the fourth and final rounds sang "The Greatest Love of All" and "One Moment in Time," respectively. She also took part in last year's Cellink Jingle Competition, and there she again sang what seems to be her favourite "I Look to You".
Akeeda also sings most of the leads during the group's performance. Lawanda explained to The Scene, "In terms of the practicing, if we choose a song to sing, according to mommy and daddy, whoever sings that part the best, they get the leading role. Akeeda and Ayanna have the ability to click their tongues as part of the tune," the former managing to master it, so most times she gets the leading role.
The girls' mother explained that Akeeda has a very powerful voice, which she inherited from her grandmother, her father's mom, who also used to sing in church. She had such a powerful voice that "the pitch could be heard from Spicy Dish to the end of Alexander Street," Judeth recalled.
The youngest of the Whaul sisters, 4-year-old Umimana, is also showing promise of being a great songstress, and, it was revealed to The Scene, she has an even more powerful voice than Akeeda. "When the girls were performing at the Cultural Centre we had to cover her mouth while in the audience because she wanted to sing with them and her voice is higher that theirs," Judeth said.
The girls have attempted practicing with her but as "the pitch of her voice is so high it would throw us off. So we tell her she can't sing with us and she would sit and listen."
This then leads to the toddler grasping all the lyrics to the songs her older sisters practice, within the space of one day, their mother said. "We know she will be a great singer," they added.
The girls' ability to sing came not only from their grandmother, but from both sides of their family, as on their mother's side also there was an aunt who sang, as well as their famous cousin Paul Cort, who Judeth described as "the best baritone singer Guyana has had". On their father's side, there is also a relation to singer Rita Forrester.
For the month of August, the Whaul Sisters have made appearances and performed at the Ministry of Culture Youth and Sport, on Guyana Today, and at the Jamzone International Pageant.
Judeth Whaul explained that it was at the latter that her daughters "reached stardom". This being the Year of the People of African Descent, the sisters, during one of their appearances at the National Cultural Centre this month, sang South African Miriam Makeba's "Pata Pata", which was selected by Akeeda. This song, the youngster told The Scene, was selected by mistake, as she had intended to take another of English genre, but not wanting to waste what did eventually turn out to be something great, she spent weeks listening to, singing, and researching the song. As a result she was able to get a lot of historical insight on her African heritage.
The sisters sing mostly gospel songs. "God has helped us along the way so we cannot forget Him," they said adding that they still sing in church.
They also sing a few love songs by their all time favourites Whitney Houston and Mariah Carey. When asked about their opinion on music done by Rihanna and Beyonce and other such stars, the girls all agreed that they are "ok, but [we] don't want to follow them".
In terms of writing their own songs, the girls are planning on doing this, but say it is their mother who has the real talent in this area. "My mom is a good writer of gospel songs," Akeeda said. "I just write poems, but mom encourages me to write songs."
When asked about her inspiration for writing songs, Judeth said, "I read my Bible a lot and I find that when I'm sleeping, early in the morning a voice would say 'get up' and when I do there's a song and I would write. Or it depends on the mood that I'm in, like if I'm sitting for about ten minutes without doing anything, the words would come."
The Whaul sisters have never, however, performed any of their mother's songs.
Apart from Whitney Houston and Mariah Carey, each girl also has other individual tastes in artistes like Usher, Patty La Belle Shirley Bassey, Miriam Makeba, Bob Marley, Beres Hammond, Maxwell, Adele, Jennifer Hudson and Bruno Mars.
The Whaul Sisters said that in future they will continue practicing and while Akeeda wants to write her own songs, they are all hoping to do a recording soon.
Around the Web