(Billboard) Days after 'Tha Carter IV' debutec at No 1 on the Billboard 200 with a massive 964,000 copies sold and lands 11 songs on the Hot 100, Lil Wayne continued a memorable week by leading all nominations for the 2011 BET Hip-Hop Awards, which were officially announced on Thursday morning.
Weezy received a record-breaking 18 nods and will compete against Nicki Minaj, Rick Ross, Kanye West and Wiz Khalifa for the "MVP of the Year" award.Lil Wayne will also compete in categories like Hustler of the Year, Lyricist of the Year and Track of the Year, the latter for the 'Carter IV' single "6 Foot 7 Foot." West and Khalifa follow Wayne with nine nods, while Ross scored eight nominations.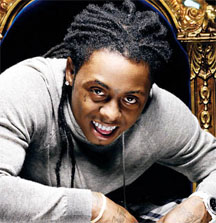 The Rookie of the Year award, which essentially acts as a Best New Artist category, features an MTV VMAs rematch between Khalifa, Big Sean and Tyler, The Creator, as well as Frank Ocean, Diggy Simmons and Big K.R.I.T.
Comedian Mike Epps will serve as host for the third time at the sixth annual BET Hip-Hop Awards, which will be held at the Boisfeuillet Jones Atlanta Civic Center in Atlanta on October 1 and air on BET on October 11.
Here is the full list of nominations for the 2011 BET Hip-Hop Awards:

MVP of the Year
Lil Wayne
Nicki Minaj
Rick Ross
Kanye West
Wiz Khalifa
Best Hip Hop Video
Big Sean f/ Chris Brown – "My Last"
Chris Brown f/ Lil Wayne & Busta
Rhymes – "Look At Me Now"
DJ Khaled f/ Drake, Rick Ross & Lil
Wayne – "I'm On One"
Eminem f/ Rihanna – "Love The Way You Lie"
Kanye West f/ Rihanna – "All Of The Lights" Reese's Perfect Combo Award (Best Collab)
Ace Hood f/ Rick Ross & Lil Wayne – "Hustle Hard (Remix)"
Big K.R.I.T. f/ Ludacris & Bun B – "Country Sh*t (Remix)"
Chris Brown f/ Lil Wayne & Busta Rhymes – "Look At Me Now"
DJ Khaled f/ Drake, Rick Ross & Lil Wayne – "I'm On One"
Lupe Fiasco f/ Trey Songz  –  "Out Of My Head"
Best Live Performer
Busta Rhymes
Cee-Lo Green
Jay-Z
Lil Wayne
Kanye West
Lyricist of the Year
Jay-Z
Lil Wayne
Nicki Minaj
Rick Ross
Kanye West
Video Director of the Year
Gil Green
Anthony Mandler
Chris Robinson
Kanye West
Hype Williams
Producer of the Year
J.U.S.T.I.C.E. League
Kane Beatz
Lex Luger
No I.D.
Kanye West, Emile, Jeff Bhasker & Mike Dean
Track of the Year
"6 Foot 7 Foot" – Produced by Bangladesh (Lil Wayne f/ Cory Gunz)
"Black and Yellow" – Produced by Stargate (Wiz Khalifa)
"I'm On One" – Produced by T-Minus (DJ Khaled f/ Drake, Rick Ross & Lil Wayne)
"Look At Me Now" – Produced by Diplo & Afrojack (Chris Brown f/ Lil Wayne & Busta Rhymes)
"My Last" – Produced by Lex Luger (Big Sean f/ Chris Brown)
CD of the Year
Big Sean – 'Finally Famous'
Lupe Fiasco – 'LASERS'
Nicki Minaj – 'Pink Friday'
Kanye West – 'My Beautiful Dark Twisted Fantasy'
Wiz Khalifa – 'Rolling Papers'
DJ of the Year
DJ Drama
DJ Enuff
DJ Envy
DJ Khaled
DJ Prostyle
Rookie of the Year
Big K.R.I.T.
Big Sean
Frank Ocean
Diggy Simmons
Tyler the Creator
Wiz Khalifa
Made-You-Look Award (Best Hip Hop Style)
Jay-Z
Lil Wayne
Nicki Minaj
Kanye West
Wiz Khalifa
Best Hip Hop Online Site
All Hip Hop.com
Bossip.com
Nah Right.com
Rap Radar.com
World Star Hip Hop.com
Best Club Banger
Ace Hood – "Hustle Hard" (Produced by Lex Luger)
DJ Khaled f/ Drake, Rick Ross & Lil Wayne – "I'm On One" (Produced by T-Minus)
Lil Wayne f/ Cory Gunz – "6 foot 7 foot" (Produced by Bangladesh)
Waka Flocka Flame – "No Hands" (Produced by Lex Luger)
Wiz Khalifa – "Black And Yellow" (Produced by Stargate)
YC Worldwide f/ Future – "Racks" (Produced by Sonny Digital)
Best Mixtape
Big K.R.I.T. – Return Of 4Eva
B.o.B – No Genre
J. Cole – Friday Night Lights
Kendrick Lamar – Section .80
Frank Ocean – Nostalgia, Ultra
Sweet 16: Best Featured Verse
Busta Rhymes – "Look At Me Now" (Chris Brown f/ Lil Wayne & Busta Rhymes)
Lil Wayne – "Motivation" (Kelly Rowland f/ Lil Wayne)
Nicki Minaj – "Monster" (Kanye West f/ Jay-Z, Rick Ross, Nicki Minaj and Bon Iver)
Wiz Khalifa – "Bright Lights, Bigger City" (Cee-Lo Green f/ Wiz Khalifa)
Wiz Khalifa – "Till I'm Gone" (Tinie Tempah f/ Wiz Khalifa)
Hustler of the Year
Diddy
Jay-Z
Lil Wayne
Rick Ross
Kanye West
Verizon People's Champ Award (Viewers' Choice)
Chris Brown f/ Lil Wayne & Busta Rhymes – "Look At Me Now"
Lil Wayne f/ Cory Gunz – "6 Foot 7 Foot"
Nicki Minaj f/ Drake – "Moment 4 Life"
Kanye West f/ Rihanna – "All of The Lights"
Wiz Khalifa – "Black And Yellow"
Around the Web