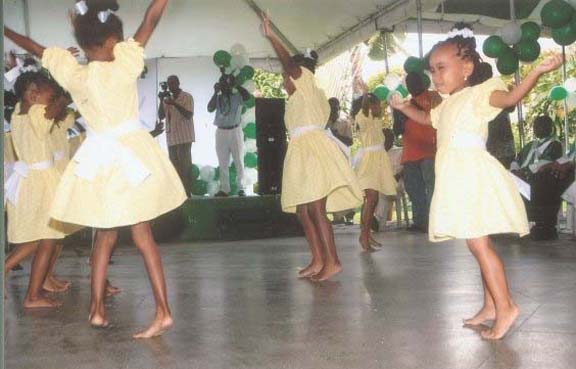 To the ordinary eye, eight-year-old Lekeziah 'Kizzy' Grant is just a pretty little girl who can dance; those who know her are continually amazed by her talent considering the way she was born.
Kizzy's parents, Bonny and Sharon Grant are staunch Christians. They run Ambiance Restaurant and have three children; two boys and one girl. Sharon confessed, "when I conceived [Kizzy] I didn't want the pregnancy". She said she felt she wasn't prepared for another child, but as time went by and the baby grew within her, her feelings changed. One Sunday while in church, she said, a sister prophesied to her saying, "you need to repent for the spirit of rejection…"  and with that Sharon repented and grew to love and anticipate the birth of her third child, and this also aided in her growing closer to God and praying more.
The proud mother explained that her husband's family is filled with singers who worship in church, and while pregnant with Kizzy she prayed that the child would be a worshipper as well.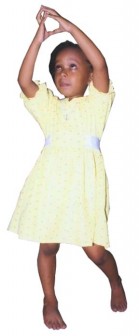 However, fate had other plans for the family as, when she was born, Sharon was shocked to find that "her two feet were facing each other". Struggling with the situation for a month before coming to grips with it, Sharon said she began praying even more for her daughter. She took her for physiotherapy, but that seemed not to be working.
She believes it was through the constant prayers of Kizzy's family and church that her feet finally developed to normalcy. Sharon recalled, "one time I went to a crusade and a pastor was preaching about Ezekiel and he said 'when God took Ezekiel to the dry bones, He told him to speak to them and he did and [the bones] came alive' and he said you can speak into your dead situation and it will come alive. So I began speaking to Kizzy's feet. When I was bathing her, I would speak perfectness and so to [them]".
She also recalled mailing money and a letter about her child to a church she had seen on Trinity Broadcasting Network. She received a response which said that the church, along with many others across America, was praying for Kizzy. "They told me that she would be healed and that she would be a worshipper, but I was thinking through singing," Sharon stated.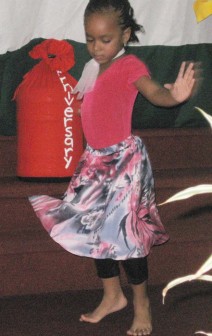 As time went by, Kizzy's mother explained, her feet gradually straightened and flattened, and by the time she was a year old, she was able to walk like a normal child. It was then that Sharon got her first surprise. "I noticed that she would throw her hands in the air and do a little dance when music was playing. But we just looked at it and said, 'baby like dance' and that was it." However, by the time Kizzy was 3, the family noticed that her dance moves were being perfected and it was evident that it was more than a baby dancing.
Kizzy was subsequently enrolled at Green Acres, where, her mother explained, "they began to mould the dancer they see in her. They had called me and asked me if I knew the child is able to dance and I said I noticed it."
Kizzy was noticed mimicking the older students after their dance class. "She was too small to dance, so she would stand by the stairs and look at the older ones as they danced and… she would go back into the room and do everything [she saw them do]. The teachers noticed her, so they took her into the group," Sharon said.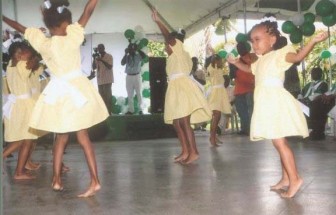 The little dancer's father added that he observed that whenever the students were practicing, Kizzy would add a dance move to what they already had. The teacher would then let her teach it to the group. Sometimes, the proud parents said, she would choreograph moves at home and then go to school and reveal them to the others.
Sharon said Kizzy began choreographing her own moves at the age of four, but she failed to see this as anything special. "It was the Prep A teacher who would call me and identify and explain some of the dance techniques to me and that's when I realized it."
The first time Kizzy danced publicly was at a graduation the school had and then she moved with the group and participated in the School's Costume Competitions held in February every year. There, her talent shone forth in 2008, earning her school the winning spot in the final round, and in 2009, she took part in a group dance with the school and they gained second place. Last year she took part in a "dance off", a now annual event at Love and Faith World Outreach Ministries in Dennis Street, Sophia, called Fiesta of Arts.
There she performed to two songs; "Carry Your Candle" and "I Need an Angel", and successfully attained second position. When she performed to "I Need and Angel" during the church's launch of this year's Fiesta of Arts "sing-off" competition, she left the audience in awe.
"Whenever Kizzy dances, I don't know what it is, but almost everyone ends up crying or screaming or something, even me," Sharon said.
Apart from the competitions, Kizzy also made guest performances at other churches – Newtown Assembly of God, Tucville Assemblies of God and Heavenly Light. In addition, she is a worship dancer at the Meadowbrook Full Gospel Church, which her family attends.
"I don't know what to tell you, Kizzy just loves dancing," Sharon said. She explained that nothing, absolutely nothing seems to stop her daughter from performing and giving her best. "When she was in Grade 2 she had to dance for graduation and she had the flu. This girl had a roasting, hot fever and when they called her name she went and danced, then she came back and snuggled in my lap. Nobody knew that she was sick."
Kizzy herself, explained to The Scene that "yesterday [Sunday last] I had a nail stick and it hurt, it was paining me very badly and mommy burnt it and I still danced. I told mommy that even though I have a nail stick it couldn't stop me from dancing." She added very seriously, "If my foot broke on stage, I wouldn't come off the stage…. I would just keep on dancing."
Her father Bonny says his daughter's talent "is a gift from God". While she has little interest in dance movies, if she listens "to a song that interests her, she would begin putting moves together" and the results are flawless. Her parents also added that she is also very bold, and noise from her audience does not distract her.
In addition to dancing, Kizzy's parents said, she is "a little prayer warrior". Her favourite expression is, "mommy, daddy, come let's pray about it".
Apart from dancing, Kizzy is serious about her education. She told The Scene that she would like to become a Paediatrician, and her favorite subjects now are Mathematics, Social Studies and Science.
She plans on dancing part-time only when she grows up and only to gospel songs "because I don't know how to dance other songs."
Around the Web