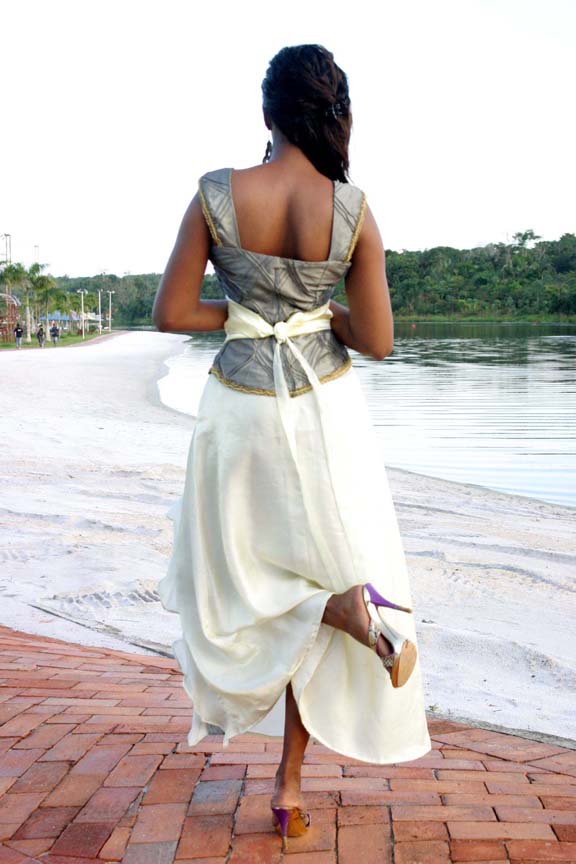 Overseas-based Guyanese Sazie Rahman, debuts her evening wear line, titled 'Modern Elegance' at Guyana Fashion Weekend (GFW) which kicked off yesterday.
Sazie, a graduate from the Fashion Institute of Technology (FIT) in New York, found out about the fashion show while on vacation in Guyana.
She said she is happy to have the opportunity to design for the country she grew up in and said it is "exciting and at the same time bittersweet" after being away for so many years.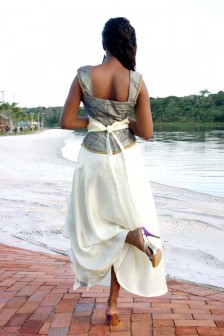 After contacting GFW Chief Executive Officer, Sonia Noel, she got down to working on her sketches and shopping for the fabrics – a hectic task that was worth every moment of it, she said.
With three seamstresses working on her designs to ensure that they were ready in time, she has successfully completed 22 dresses.
She told The Scene that the dressmakers did a fantastic job for the most part and she just had to spend some extra time correcting some minor errors.
At the time Sazie got involved with the GFW the seamstresses were busy completing school uniforms and they were only able to work on her designs after that.With a wealth of knowledge from FIT, Sazie said "it was a remarkable and rewarding experience working with the models and teaching the younger designers what I learnt in school."
About the preparation for the show, Sazie said: "Even though it was a lot of work, it was also a lot of fun."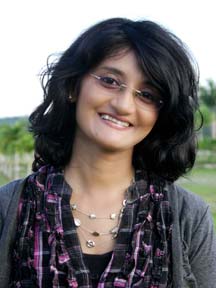 She also said it was "such an honour meeting Sonia, Richard Young and the other talented designers."
She worked with various designing companies in New York, managing design showrooms and assisting the design and trim departments.
The recession period that faced the US has been a major setback in the fashion industry but she is confident that it will get better.
This is her first opportunity to enter a fashion show and Sazie sees it as a break in her career and a start of bigger things to come.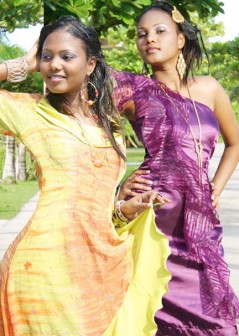 Around the Web